The less-than-truckload industry confronted a sizable speed bump last year, as slower economic growth in 2012 hobbled expansion and throttled back steady post-recession gains in annual revenue that the nation's largest LTL carriers won in 2010 and 2011.
But the axle-rattling could be short-lived, with the LTL sector — which accounts for about 5 percent of all trucking revenue, both for-hire and private — recovering some momentum in revenue and pricing this year. The key will be a stronger and more stable U.S. economy. Another year of weak recovery would mean another year of slow growth, lower profits and less reinvestment in fleets and networks that need upgrading.
The largest LTL companies increased their combined revenue 4.5 percent last year to $28.8 billion, according to The Journal of Commerce's 2013 list of the Top 25 LTL Carriers, prepared by SJ Consulting Group in Pittsburgh.
But sharp deceleration from revenue gains of 12 percent in 2011 and 9.2 percent in 2010 left the 25 largest U.S. and Canadian LTL carriers about $870 million short of the $29.7 billion in combined revenue they enjoyed in 2008.
Click Image to Enlarge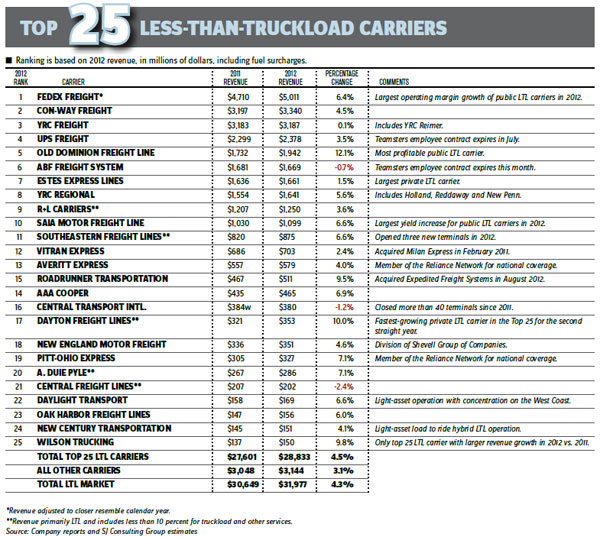 The LTL trucking industry suffered an unprecedented collapse in 2009 in the wake of the recession and global financial crisis. In one year, the largest 25 carriers lost 31.6 percent of their combined revenue, or $7.1 billion, according to revised SJ Consulting data. Sales among the Top 25 fell by 10.1 to 47.3 percent in 2009 as freight demand plummeted and rates were slashed to the bone. Those companies have increased annual revenue by $6.2 billion, or 27.7 percent, since that disastrous year. That's close to revenue "recovery," but not a pallet load of cigars.
Last year's LTL slowdown reflected an economic rebound that seemed to lose its impetus in the spring and summer, resulting in a substantially weaker finish to the year than in the fourth quarter of 2011, when GDP increased 4.1 percent.
LTL carriers outperformed the economy in 2012's fourth quarter, when GDP dropped 0.1 percent largely because of federal cuts in defense spending and a drop in spending on private inventories, from $60 billion in the third quarter to $20 billion. The average operating ratio among the large publicly owned carriers tracked by The Journal of Commerce improved 1.2 percentage points year-over-year to 95.7 percent. Among those carriers, LTL revenue increased 3.7 percent in the fourth quarter on average, compared with 3.2 percent in the third quarter and 5.5 percent in the second.
Still, business was "OK, but not great" in the fourth quarter, as the CEO of one large LTL operator said. That gives LTL carriers even more reason to focus on improving freight mix, pricing and yields, adjusting networks to create more lane density and efficiency and maintaining or rebuilding profitability in 2013.
That sharp focus on improved efficiencies and bottom lines rather than top-line growth also means carriers are concentrating on shortening transit times, reducing freight handling and damage claims — service improvements that benefit shippers.
Revenue for the LTL industry as a whole rose 4.3 percent, to nearly $32 billion from $30.7 billion in 2011. Last year's industry total was still more than $1 billion below the $33.3 billion in revenue reported in 2008 and the pre-recession peak of $33.7 billion recorded by SJ Consulting in 2006.
The revenue slowdown last year was near universal. Strikingly, only one LTL company among the Top 25 carriers — Wilson Trucking — increased revenue at a faster pace in 2012 than in 2011. Virginia-based Wilson, No. 25 on the revenue-based list, boosted revenue 8.7 percent in 2011 and 9.8 percent in 2012.
The two fastest-growing LTL truckers of 2011, North Carolina's Old Dominion Freight Line, at 25.7 percent, and Ohio's Dayton Freight Line, at 24.9 percent, saw the pace of their expansion reduced to 12.1 and 10 percent, respectively. And ODFL and Dayton were still the two fastest-growing companies on the list. Compare that with 2011, when 18 of the Top 25 carriers increased revenue by double digits.
Compared with trucking at large, the LTL sector is amazingly concentrated, with the 25 largest carriers accounting for 90.2 percent of total LTL revenue, according to SJ Consulting data. That's about the same share they held last year, and slightly bigger than the 87.6 percent market share those carriers had in 2010.
That concentration, unusual in trucking, reflects the age of the segment — many of the surviving LTL carriers are among the oldest in the nation — and its reliance on networks of terminals stretched across regions. In theory, at least, it only takes a truck to start a truckload carrier, and the vast majority of truckload operators have fewer than 20 tractor-trailers. LTL requires a more expensive and expansive footprint.
The LTL carriers that didn't make the Top 25 list grew more slowly than their larger competitors in 2012, increasing combined revenue 3.1 percent to 3.1 billion. That compares with an 8.1 percent expansion in 2011 and 7.8 percent gain in 2010. That's more evidence that large trucking companies, with scalable resources and greater ability to absorb higher costs, are getting bigger at the expense of smaller firms.
If those hundreds of smaller LTL and cartage companies were consolidated, their combined revenue would be slightly less than that of YRC Freight, the third-largest LTL carrier.
The 10 LTL carriers with more than $1 billion in revenue increased their combined sales 4.3 percent in 2012 to $23.2 billion, accounting for 72.3 percent of total LTL revenue and 80.4 percent of the combined revenue of the 25 largest LTL carriers. In 2011, those same 10 carriers increased revenue 17 percent to $22.2 billion.
Among the largest of the large, $5 billion FedEx Freight increased its market share by 0.3 percentage points, according to the SJ Consulting data, to 15.7 percent of the total LTL market. FedEx Freight accounts for 17.4 percent of Top 25 revenue.
Con-way Freight, with $3.3 billion in revenue, saw LTL market share inch up to 10.5 percent, while YRC Freight's share dropped from 10.4 to 10 percent.
Overall, a comparison of 2011 and 2012 market share among the 10 largest LTL carriers reveals remarkable stability, with share shifting only by fractions of a percentage point. That reflects an industry still scarred by the price wars of 2009, when rate discounting to grab any available freight — and to try to knock ailing YRC Freight out of business — contributed to a huge drop in revenue and drove all the billion-dollar carriers except ODFL into losses. ODFL remained profitable throughout the recession and recovery, and last year increased market share from 5.7 percent in 2011 to 6.1 percent, the biggest jump among the 10 largest carriers.
Investment research firm R.W. Baird forecasts LTL rates will rise 2 to 4 percent on average in 2013, spurred by a moderate recovery and tighter capacity. "For LTL, end-market growth is slowing, and pricing discipline is here to stay," Benjamin Hartford, senior equity research analyst at the firm, told SMC3's Jump Start Conference in January.
LTL rates likely will climb faster than truckload pricing in the next couple of years because LTL trucking companies have further to go to recover their pre-recession margins, Hartford said. "LTL margins are still 200 to 300 basis points below where they were a cycle ago," in 2006, he said. "Public truckload margins are back to peak levels."
Click Image to Enlarge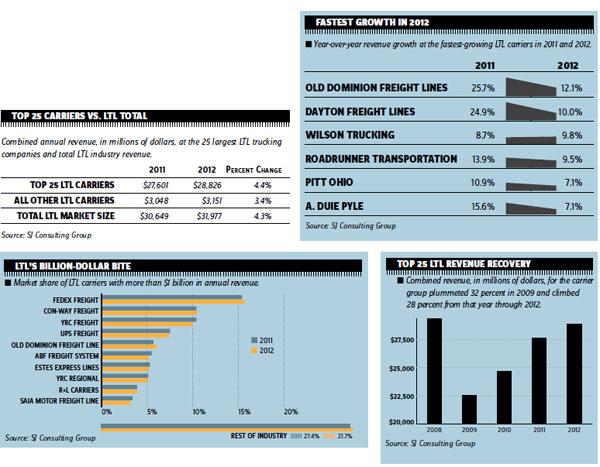 The number of LTL carriers in the $500 million-to-$999 million revenue class increased from three to four last year, as Roadrunner Transportation Systems increased LTL revenue 9.5 percent to $511 million (SJ Consulting only includes LTL freight revenue in its estimates, excluding truckload, freight brokerage and other revenue). Wisconsin-based Roadrunner acquired Expedited Freight System, a small Midwestern LTL carrier, last August for about $10 million. The carrier, which uses owner-operators in a nontraditional LTL network, opened four outbound LTL terminals in the Northeast in two years to draw more business from the region.
The other three carriers in the $500 million-to-$999 million class were Southeastern Freight Lines, Vitran and Averitt Express, and they increased revenue 6.6, 2.4 and 4 percent, respectively. As a group, those carriers increased combined revenue 5.5 percent in 2012, compared with a 14.5 percent leap the previous year.
Seven companies reported revenue ranging from $200 million to $499 million, one less than last year, as Roadrunner moved up a class. The LTL carriers in this group included AAA Cooper Transportation, Central Transport International, New England Motor Freight, Dayton Freight Lines, A. Duie Pyle and Central Freight Lines.
As a group, revenue at these carriers rose 4.8 percent to $2.4 billion. Texas-based Central Freight Lines saw LTL revenue drop 2.4 percent and unrelated Central Transport International of Michigan saw revenue contract 1.2 percent, according to SJ Consulting.
With a 10 percent increase in revenue, Ohio-based Dayton Freight Lines was the fastest-growing privately owned LTL on the list. Pennsylvania-based A. Duie Pyle and Pitt Ohio increased revenue 7.1 percent, Alabama-based AAA Cooper raised revenue 6.9 percent and New Jersey's NEMF had a 4.6 percent gain, according to SJ Consulting.
Four carriers with less than $200 million in revenue made the 2011 list:  Daylight Transport, Oak Harbor Freight Lines, New Century Transportation and Wilson Trucking. This group combined increased revenue 6.6 percent to $626 million, led by Wilson's 9.8 percent gain. In 2011, the under-$200 million group increased revenue 11.5 percent, according to SJ Consulting.
With most economists forecasting muted economic growth this year, the transportation research firm expects 2013 to look much like 2012 for LTL carriers, in terms of revenue growth. The prospect for profit may be greater. As SJ Consulting Senior Analyst Michael Scheid said: "LTL trucking companies still have the opportunity to grow profits by maintaining capacity, focusing on pricing increases and looking for operating efficiencies."  
Contact William B. Cassidy at wcassidy@joc.com and follow him at twitter.com/wbcassidy_joc.