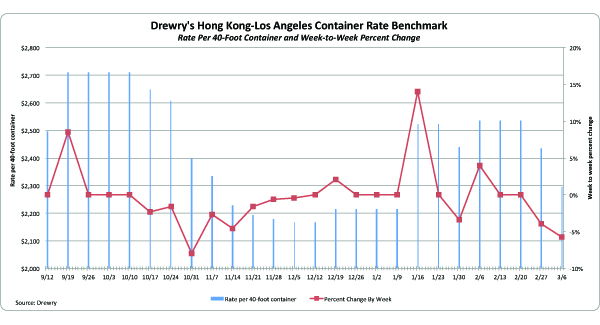 Trans-Pacific eastbound spot container rates fell 5.7 percent in the week ending March 6, the second consecutive week of significant declines. Spot eastbound trans-Pacific rates from Hong Kong to Los Angeles dropped to $2,296 per 40-foot container, down $140 from last week, according to the Wednesday release of the Drewry Hong Kong-Los Angeles Container Rate Benchmark. This price is still 29.6 percent or $524 higher than it was for the same week of 2012.
Last week was the biggest weekly drop in rates in 2013, with rates down 3.9 percent. The new benchmark rates make this the biggest weekly decline of the year. Since Feb. 20, the spot rate fell 9.5 percent or $240 from $2,536.The current rate is still 3.71 percent or $82 higher than it was at the beginning of 2013, when it stood at $2,213.
Asia-West Coast rates continue to show an overall decline. The week ending March 1 saw the fifth straight weekly spot rate decline as tracked in the Shanghai Containerized Freight Index. Rates dropped 9.2 percent or $233 between Shanghai and the U.S. West Coast during those five weeks.
Carriers will try again to boost rates on April 1 when the Transpacific Stabilization Agreement plans to impose an increase of $400 per FEU to the U.S. West Coast.