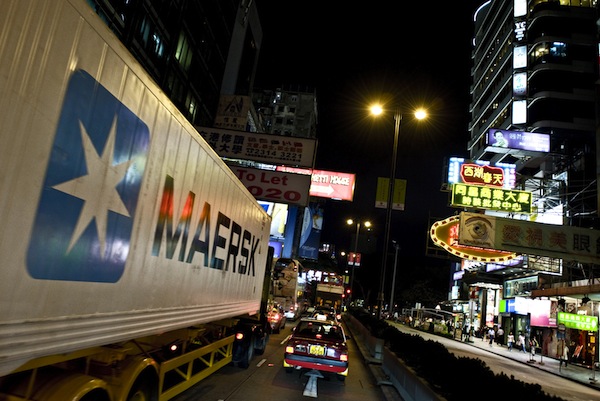 LONG BEACH, Calif. — Maersk Line is having mixed results in its attempt to raise reefer container rates by $1,500, with actual price gains varying by commodity and lane, according to at least one ocean shipping analyst. But there is little doubt about the overall direction of refrigerated freight pricing.
"In my personal opinion, rates are going up, and if you're not going to get on board that train, you're going to be left at the station," Fred Cox, manager of international logistics at global meat shipping giant JBS USA, told The Journal of Commerce's 13th annual TPM Conference on March 5.
Reefer freight rates did increase up to 33 percent from November through February, Philip Damas, director of Drewry Supply Chain Advisors, said in a Cool Cargoes presentation at TPM, but actual increases varied considerably between routes, carriers and types of refrigerated commodities.
"In many cases, the increase has been much lower" than the $1,500 general rate increase on reefer containers that Maersk put into effect in January, Damas said. As with any GRI, freight volume also affects the leverage customers can exert on reefer container pricing and the increase they pay.
Unlike container shipping as a whole, refrigerated ocean shipping is sailing toward tighter capacity, Damas said. Breakbulk operators are scrapping refrigerated cargo ships at an unprecedented rate, and companies such as Maersk are holding back on investment in new containers until rates rise.
There are about 800 specialized reefer vessels in operation today, Damas said, and most of those ships were built before 1986. "There were 39 ships scrapped in 2011 and 74 ships scrapped in 2012, the highest number ever," Damas said. The remaining, aging ships are unlikely to be replaced.
In contrast, the global reefer container fleet increased 8 percent in 2011 and 4 to 6 percent in 2012, he said, and now represents about 17 percent of total container capacity. "It's not just a small niche," Damas said. Container ships account for 91 percent of reefer freight capacity worldwide, he said.
The scrapping of aging breakbulk vessels and lower investment in reefer containers could lead to a capacity bottleneck, and already is part of the reason reefer freight rates are warming up, Damas said. An increase in demand of 4.5 percent over the next few years will raise the temperature higher.
Maersk Line sees a burgeoning worldwide middle class with an appetite for higher quality and more diverse foods feeding that demand for many years to come. "Growth in developing markets has been unprecedented," said Bill Duggan Jr., vice president of refrigerated services for North America.
Complete coverage of trans-Pacific maritime trade
In the U.S., year-round demand for seasonal fruits and vegetables is stimulating growth. "Those of us who are a certain age remember going to the grocery store and waiting for the grapes from California or the pears from the Pacific Northwest. Now we have fruit 52 weeks a year," Duggan said.
But Maersk ordered a full stop to further investment in its reefer business until rates rise high enough to provide an adequate return on capital investment, Duggan told shippers and carriers at TPM. "We canceled a $500,000 equipment order from our own (container) factory in China," Duggan said.
"We did not invest in the market this year, and we're sticking to that," he said. "Our Reefer Rate Restructuring initiative means to provide us with the returns so we can reinvest in the future. The industry needs a predictable and reliable supply chain, but we need to be able to make some money."
Reefer rates have been flat over the past five years, Duggan and Dumas pointed out, while operating costs for carriers are climbing. "The costs of serving the refrigerated industry are daunting," Duggan said. "There are all sorts of costs associated with handling and monitoring reefer containers."
It's too early to say if Maersk's attempt to boost reefer container rates by $1,500 per TEU will be a success, Duggan said. "We're only two months into it. We're into very open discussions right now with our customers … We need to help each other, but demand is outpacing supply right now."
That's a concern to JBS, which ships beef, pork and poultry in 82,000 refrigerated 40-foot equivalent unit containers a year. "As large as we are, we do not make markets," Cox said. "It's a high-volume, low-margin business that we're in, and (higher rates) could make us uncompetitive."
The world's largest animal protein processor, as it calls itself, hasn't seen a monolithic move toward a $1,500 rate increase, but has seen some rates drop and some rise substantially, Cox said. "There are lanes where supply-demand considerations could warrant increases up to that level."
Shippers and carriers need to stop hammering each other over rate hikes and look for "value" within their relationships, he said. In other words, they need to find ways to take costs out of the supply chain to benefit both carrier and shipper, reducing the need for higher and higher rates to recoup costs.
"The reality is, it's not about the rates," Cox said. "We have to understand that the lowest cost carrier is probably not the guy who's going to be delivering that value," he said, identifying value in consistency of service, speed, accuracy in documentation and execution and other areas of customer service.
Reefer shippers need to better forecast their demand and provide more information to carriers, Cox said. "If you can consistently tell them what you need, when you need it, you'll be surprised at how much better they'll be able to meet those needs at a competitive cost," the shipper said.
"There's not 'one-size-fits-all' across all contracts," Duggan said. "There are cost items that can be taken out to create a discussion of whether it's a $1,500 rate increase or a $700 rate increase. There are solutions that could be worked out with customers that go beyond pure rate."
Contact William B. Cassidy at wcassidy@joc.com and follow him at www.twitter.com/wbcassidy_joc.