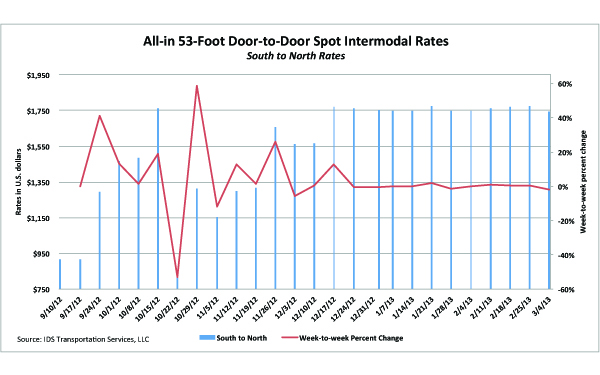 U.S. intermodal rates showed ups and downs across the four lanes during the week of March 4, according to weekly data on all-inclusive 53-foot door-to-door spot pricing quoted by railroads and provided by the 3PL IDS. East-west lanes and west-east lanes had rate increases, while rates on north-south and south-north lanes declined. IDS Executive Vice President Rick LaGore explained, "Overall, the index experienced a slight decrease to the prior week, but that was driven by two lanes having a significant decrease."
East-west spot rates edged up 0.3 percent or $5 to $1,820 per all-in 53-foot moves. West-east rates inched up 0.3 percent or $8.33 to $2,471. North-south rates slipped 0.4 percent or $7.14 to $1,994, and south-north rates dropped 1.8 percent or $32.14 to $1,744.
Rates showed diverse results across lanes this week. The rate for Chicago-Denver, an east-west lane, was $2,660, up 0.2 percent or $5 from $2,655 a week ago. Other east-west lanes, including Atlanta-Los Angeles and Atlanta-Dallas, showed no change in rates, remaining at $2,000 and $1,685, respectively. This is the third straight week that Atlanta-Dallas has remained flat. As for the west-east lanes, Los Angeles-Atlanta showed the biggest jump — 1.7 percent or $50 to $2,950 this week. The other west-east lanes showed slighter increases. Los Angeles-Dallas and Los Angeles-New Jersey both showed a 0.4 percent increase this week. Los Angeles-Dallas rose $10 to $2,480. Los Angeles-New Jersey was $3,540, up $15. Los Angeles-Chicago was up 0.2 percent or $5 to $2,325 and Seattle-Chicago edited up 0.3 percent or $5 to $1,950.
Northbound and southbound rates showed overall decreases this week because of substantial rate drops in two lanes. Chicago-Dallas, a north-south lane, fell 8.7 percent or $200 to $2,100. However, New Jersey-Atlanta, another north-south lane, increased 4.7 percent or $45 to $995. The south-north lane of Dallas-New Jersey fell 9.2 percent or $230, to $2,270. The Atlanta-Seattle rate remained at $2,855 this week.
For the past few weeks, intermodal prices have been ticking up because of fuel surcharges.
Lawrence Gross, senior consultant at FTR Associates, an industry leader in freight transportation forecasting, notes, "Our outlook for intermodal rate improvement is modest in the near term. We do expect rates to accelerate as we get into the second half of the year, under the pressure of tightening truck capacity. The likelihood of this has been increased by the FMCSA's recent refusal to delay implementation of new HOS rules. Now the only possibility of delay is if the court issues an injunction against the changes. While we cannot, of course, predict what the court will actually do, the threshold for issuing such an injunction is quite high, and we consider it to be fairly unlikely."