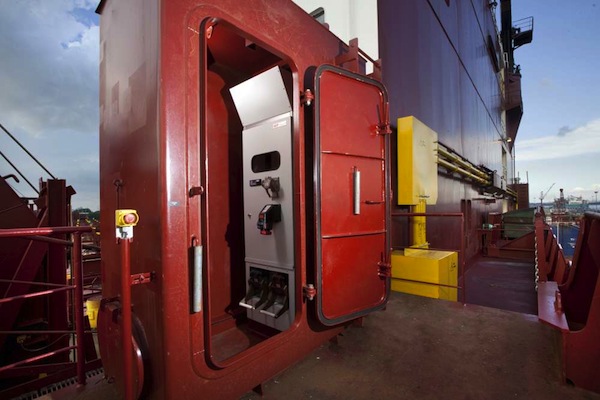 When Maersk Line in 2007 established a goal of reducing pollution from its vessel operations by 25 percent by the year 2020, it appeared to have set an ambitious target. Maersk achieved that goal in 2012, and immediately raised the bar to a 40 percent reduction in emissions by 2020.
Maersk is representative of an industry moving forward aggressively to reduce its carbon footprint, to combat global warming, and toxic emissions of nitrogen oxide, sulfur dioxide and particulate matter that are known to contribute to health risks such as cancer, respiratory diseases and cardiovascular illnesses.
Liner companies aren't working alone. They are cooperating with retailers, manufacturers, mining companies and other customers to measure, evaluate, report and reduce carbon and health-risk emissions throughout the supply chain, beginning with the shipment of raw materials to the factory and culminating in the delivery of the finished product to the store shelves.
Shipping lines and beneficial cargo owners wanted to ensure their efforts were credible, so they joined together in the Clean Cargo Working Group to agree upon a methodology for measuring their environmental performance and reporting the results in a standard format.
The Clean Cargo Working Group now includes about 300 shippers and carriers. The data collected is verified by international classification societies and is provided in confidence to the working group, said Marshall Chase, manager of advisory services for sustainability consultant BSR, and a Clean Cargo spokesman. Clean Cargo shares the information with cargo interests so they can benchmark the performance of the carriers they use against the average performance in each trade lane.
The cooperation between shippers and carriers is resulting in continual improvements in vessel design, performance of main and auxiliary engines, fuels and operational practices. Cargo interests, especially large retailers, are under self-imposed pressures to reduce pollution throughout their supply chains. The data they are generating and sharing with Clean Cargo helps the maritime industry to develop best practices in its operations so carriers can compete for business on the basis of environmental as well as commercial performance.
Complete coverage of trans-Pacific maritime trade
The efforts to reduce pollution are working. "We are definitely seeing improvement from year to year," Chase said. Clean Cargo produces scorecards that are based on vessel capacity, miles traveled, the ages of vessels and trade lanes in which they are deployed, and the results are showing an overall reduction in emissions, he said.
One of the most direct ways to reduce carbon emissions and some toxic emissions is to lower fuel consumption. APL, for example, has found it can save 16 percent on fuel through new hull designs that reduce vessel drag, and that can improve environmental performance by 20 percent or more in container unit per kilometer traveled, said Kevin Krick, senior director of the ocean carrier's security and environment.
APL also is improving its environmental performance through innovations such as electric-controlled slide-valve technology, improved rudder design and the use of lighter propellers. Use of an anti-fouling, self-polishing paint on vessel hulls prevents the formation of barnacles and other obstacles that affect fuel consumption and emissions, Krick said.
Maersk has found that a waste heat recovery system that captures heat from the vessel stacks and converts it to electricity for vessel operations reduces energy consumption 8 to 10 percent. "It's very significant," said Lee Kindberg, Maersk's director for environment and sustainability.
Engine manufacturers continue to improve engine performance in terms of fuel consumption and emissions. There is a direct correlation between reduced fuel burn and reductions in carbon and sulfur dioxide emissions, Kindberg said. The correlation is slightly less for nitrogen oxide emissions, but it is still significant.
Carrier efforts aren't confined to purchasing clean, new vessels, Kindberg noted. Maersk continues to retrofit existing vessels in order to produce emission reductions. This is especially beneficial on some trade lanes, such as north-south routes, that don't generate enough volume for the mega-ships being built today.
Carriers also are responding to new regulations, such as the North America Emissions Control Area that mandates the use of low-sulfur fuel within 200 miles of the coasts of the U.S. and Canada, or rules that have been promulgated in certain regions such as northern Europe and California.
California is the only location in the world that has pending requirements for operating vessels from shore-side electrical power while at berth, a process known as cold-ironing. Beginning Jan. 1, 2014, 50 percent of the container vessels calling the ports of Los Angeles, Long Beach and Oakland must cold-iron. The requirement increases to 70 percent in 2017 and 80 percent in 2020.
Los Angeles and Long Beach have slashed truck emissions by more than 80 percent with their clean-trucks programs, and Oakland is making similar gains, so now vessels stand out as the main source of pollution. Kindberg said new terminals in Hong Kong, which has significant air quality problems, are being designed with the capability for cold-ironing.
The most significant operational change to be implemented by most container lines is slow- and super-slow-steaming of vessels. Carriers have found that reducing vessel speeds produces a significant reduction in both fuel consumption and pollution.
Maersk is finding that "steady steaming" also produces favorable results, Kindberg said. Rather than adjusting speeds up and down to meet berthing windows, it uses advanced vessel planning and communication with terminal operators to help vessel captains reduce fuel consumption by achieving a certain speed and maintaining it until arrival at the port.
Vessel engines and auxiliary engines are being designed to operate more efficiently at slower speeds, Krick said. Carriers are responding by constantly re-evaluating network designs to produce more opportunities in their schedules to incorporate slow-steaming.
Although all of these efforts are aimed primarily at reducing pollution, in many instances the residual benefits include greater efficiency and lower fuel consumption, which translates to a quantifiable cost savings. This allows environmental managers to make a business case for the improvements, Kindberg said.
Because industry efforts are still in the early stages, improvements in pollution reduction and efficiencies are anticipated, Chase said. Carriers, for example, are looking at possible uses for biofuels and the benefits renewable energy sources might bring.   
Contact Bill Mongelluzzo at bmongelluzzo@joc.com and follow him at twitter.com/billmongelluzzo.