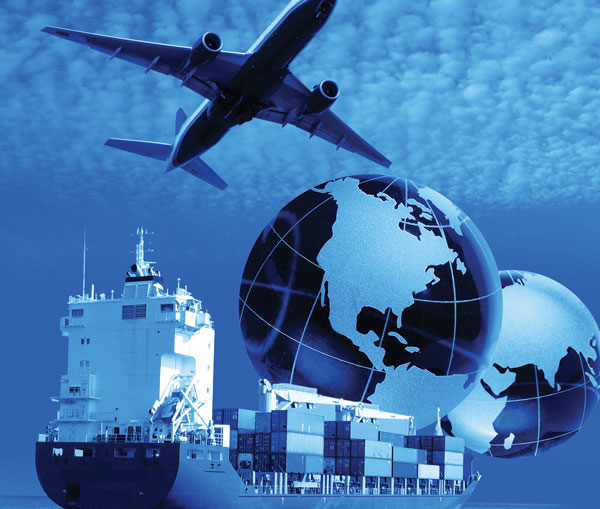 Asian palates are turning east. The rise of the middle class in China and other emerging Asian economies is fueling a growing appetite for fresh fruit and vegetables from the Americas.
Above all, Chinese consumers crave fresh produce such as cherries and blueberries, to the delight of airlines that have feasted on these highly perishable premium commodities for years. Cherry season has traditionally meant planes loaded to the rafters with the dense, high-yielding stone fruit flying from the West Coast to Japan and some other Asian destinations.
Cherries and blueberries, however, no longer go automatically by air, thanks to improved cold chain capabilities in the maritime industry. "Cherries can go 18 to 20 days by boat from the West Coast to China," said Chris Connell, president of Los Angeles-based Commodity Forwarders, which specializes in perishables.
A considerable portion of these perishables headed to Asia is grown in Latin America, but it's unlikely to be shipped the entire way by ocean vessel. It typically goes as air freight through a U.S. airport or as sea-air, Connell said.
The latter option involves maritime transportation to Los Angeles, Miami or New York, where the cargo is switched to aircraft headed to Asia. "We are moving a lot of sea-air shipments from Chile to Asia," said Neel Shah, chief commercial officer of Able Freight, a Los Angeles-based forwarder specializing in perishables.
Pharmaceutical producers also have been experimenting with sea-air in their efforts to replace air freight with less expensive transportation options. Switzerland-based forwarder Panalpina, for example, is setting up a multimodal supply chain for this segment from Europe to Latin America. For some sectors, sea-air is under consideration, said Thomas Berger, Panalpina's global head of the health care industry vertical.
Sea-air, long viewed as a vehicle for medium-end fashion products and an overflow valve for peak seasons, is attracting attention from other sectors. For some shippers, the concept is an integral part of their supply chain, but this group is quite small, said Gerhard Blumensaat, director of central China air freight at German logistics giant DB Schenker.
The pool of shippers prepared to dip a toe in the water and try sea-air has expanded exponentially. "Although retail and fashion customers have probably been using sea-air solutions as a regular element of their supply chains the longest, sea-air is used by a variety of sectors such as engineering and manufacturing, consumer goods and technology," said Nicklas Schlingensiepen, head of Asia-Pacific air freight operations and compliance at DHL Global Forwarding. "In fact, the technology sector has shown the most interest in sea-air solutions recently as it tries to drive down supply chain costs."
Complete coverage of trans-Pacific maritime trade
Lowering transportation costs is a major driver for the recent interest in sea-air solutions, but it's not the only aspect, according to Ram Menen, senior vice president of cargo at Emirates Airlines. "This has now become a part of the supply chain operations strategy, which allows importers to leverage or use transportation as an inventory-holding strategy for inventory replenishment," he said. "This gives them near-free inventory holding for anywhere between 15 and 21 days from China to Europe. Depending on the inventory replenishment strategy, you could have as little as a seven- to 10-day cycle for China-origin cargo routed via Singapore, or 17 to 21 (days) via Dubai," he said.
Forwarders view sea-air as part of a menu of options they can juggle to achieve better solutions for their clients. "We encourage and work with our customers to consider multimodal solutions such as sea-air as part of their normal supply chain planning, and not just as a last-minute (or) peak option," Schlingensiepen said.
Multimodal solutions in general have become more popular as companies look to reduce logistics costs and improve their carbon footprint, he added.
Schlingensiepen sees the biggest potential for sea-air in the trade lanes from Asia to Africa and South America, citing long transit times for ocean cargo and high costs for air freight in these sectors.
One area widely seen as an up-and-coming transit point for sea-air cargo is Sri Lanka, notably Hambantota at the southern tip of the island. It's extremely well-placed, but its success will hinge on what kind of capacity and connectivity it can create, Menen said. "Unless they develop good import volumes, access to economically viable capacity will be a challenge," he said.
Menen doesn't regard the new kid on the block as a threat to Dubai, at least for the near future. "It could complement and create a nine- to 12-day product if they can create viable air capacity westbound," he said.
Cairo was expected to become another sea-air point, but the Egyptian capital failed to live up to its promise. Dirk Steiger, principal of Frankfurt, Germany-based air freight research and consulting firm Aviainform, said users found Egyptian customs less cooperative than they had hoped but  that arguably more effort could have been expended to try to make this solution work. In his experience, many trials of new sea-air programs and routings have yielded promising results but went nowhere because it was easier to stick to the status quo.
For all the promise of lower costs vis-a-vis pure air freight solutions and the interest among shippers in multimodal offerings, sea-air faces challenges. Lufthansa introduced an air-sea service from Europe over Hong Kong to Australia but scrapped it because of low demand and the high complexity of the offering, a spokesman for the German carrier said. The decline in air freight rates from Asia to Europe because of overcapacity also has undermined sea-air's appeal.
But shipping lines' desire to develop the slow-steaming concept further will stretch the gap in transit time versus air freight even more, which should keep shippers' interest in sea-air options lively, Schlingensiepen said. 
Contact Ian Putzger at alkaputz@rogers.com.