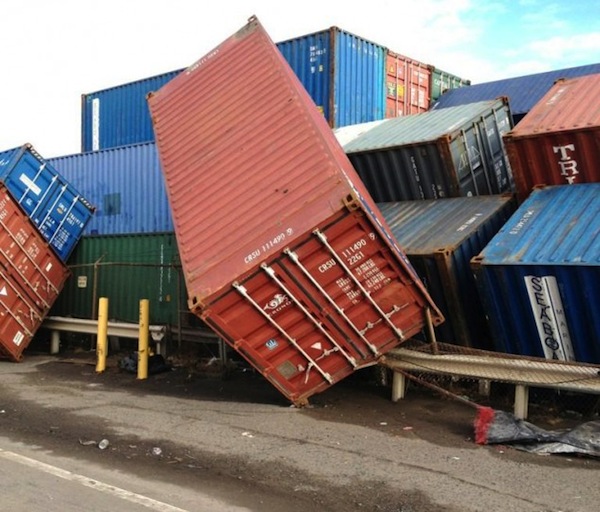 Tornadoes, storms and other natural disasters last year sparked cargo and liability loss claims that are still working their way through the market, but one early indication is that they may slow the decline in insurance premiums that shippers have enjoyed in recent years.
"I'm still getting calls from shippers who just opened up their containers and discovered their cargo is all wet from Hurricane Sandy," John Barnwell said. "It's not surprising when their container was at the bottom of a stack in Port Newark on Oct. 29th and the surge inundated the bottom layer."
Barnwell, who is global marine product leader for Allianz Global Corporate & Specialty, was reflecting on the impact of the monster storm that hit the Port of New York and New Jersey on Oct. 29 and caused extensive damage to terminals, containers and cargo. "Lots of cars, too," he said.
It was perhaps a fitting coda to a year that started in January with the most expensive maritime disaster in history, the foundering of the cruise ship Costa Concordia on a rock off the Italian island of Isola del Grigio, which will cost insurers $1 billion in hull and liability insurance by the time all claims are filed.
 "The market is stabilizing a bit," said Daniel C. Negron, vice president of the TT Club, Thomas Miller Americas. "I'm not suggesting premiums are going up, but they are not decreasing the way they did."
He said the end of the decline in premiums on liability insurance has meant the TT Club has retained many clients that might have shopped for lower rates in the past.
The London-based mutual insurance society, which has underwritten liability insurance for years, entered the cargo insurance market last year, a coverage Negron said fits in well with its liability policies.
The TT Club, which writes coverage for damage to containers and to the goods inside them, experienced only a few claims for damage to containers when the tidal surge driven by Hurricane Sandy swept over the terminals in New York harbor and floated the boxes around like corks in a bathtub.
"Even now in February, it's still early days. It's still not clear how Sandy will be felt in the direct insurance marketplace, although we have paid some claims," said Paul Friel, cargo leader for the Northeast at insurance brokerage Marsh USA. In the reinsurance markets, the claims from Sandy are putting heavy pressure on primary insurers to retain the insurance business of their cargo shippers or to increase premiums to cover the rising cost of laying off cargo risks with reinsurers, he said.
"Some primary insurers have pretty low retentions (of risk) with their reinsurance placements, so they are ceding a lot of the risk to the reinsurance markets, which is taking a lot of pain from these catastrophic losses," Friel said. "Primary insurers are either going to have to restructure their reinsurance policies to take an increased risk retention, or they'll have to pay more reinsurance premium."
That means companies that insure cargo during transit will have to absorb more of the risk of damage claims, or pay more for reinsurance — costs they will have to absorb or pass along to their shipper customers. There's plenty of investment money in the insurance market, Friel said, so shippers with good loss ratios still will be able to get competitive premiums, while shippers with bad loss ratios or high catastrophic exposures will have to restructure their policies to keep premiums down by taking on more risks.
Shippers with good loss ratios and low risks that have not updated their cargo insurance policies in five or six years can still get steep reductions in insurance premiums, but the steepness in reductions is declining. Shippers who have updated their policies recently will no longer find steep premium reductions.
"We are seeing pressures from the reinsurance market and pressures from underwriters looking to gather more information to aggregate their risks in ports and inventory locations," Friel said.
The marine insurance market in general took 2012 harder than the overall property and casualty market did because of the Costa Concordia losses. But, few if any of those claims involved the kind of contingent business interruption or cargo loss involved in natural disasters such as the 2011 earthquake and tsunami in Japan and floods in Thailand, both of which cut off supply chains.
"These natural disasters just never stop," Barnwell said. "That's why we're in business." Natural disasters have global ramifications because the global economy is interconnected.
Hurricane Sandy, however, didn't have the business interruption losses that occurred following the Japanese and Thai disasters because relatively little manufacturing is done in the U.S. Northeast. Only some retail stores filed business interruption claims resulting from the storm.
The sheer volume of last year's marine insurance claims is starting to discourage investors from pouring money into the marine market as they did during the recession when they sought better returns than they were getting in the stock market. Although there is still plenty of overcapacity that has driven down premiums in the last few years, "what folks are seeing now is that the investment income is not there, so they have to live on underwriting profits, and the volatility of natural catastrophe is such that it is scaring investors away," Barnwell said.
As a result, premiums, which are still low, may start to increase.  
Contact Peter T. Leach at pleach@joc.com and follow him at twitter.com/petertleach.