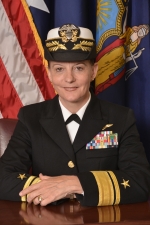 The maritime academies face many challenges in our traditional way of preparing students for careers in the maritime industry: ever-increasing domestic and international regulations (standards, training, certification and watchkeeping; MARPOL; and ballast water, for example); growing demand for online education vs. face-to-face classroom; shrinking state and federal budgets; and the aging state of maritime academy training ships.
The maritime industry is changing. Although there is a steady demand for students with unlimited tonnage licenses, there is an increasing demand for graduates on domestic vessels of limited tonnage and horsepower. More specialized training is required across the curricula because of international regulations, technological advancements in navigation and engineering, new vessel designs (larger and deeper vessels with reduced crew sizes), and new trade routes (the polar regions, for example) opening for commerce.
The maritime academies also are observing a revolution in education whereby technology is making it possible for institutions of higher learning to reach much wider audiences, to share our courses and training in innovative ways, and to shape a future that could be beneficial and available to a much wider audience.
Online training, however, can't take the place of the traditional hands-on training afforded by our state academy training ships, especially given the latest international STCW 2010 standards and accounting for practical demonstrations of skill.  
As we move forward to meet the demands of a changing maritime industry, with ships that have the latest technology and propulsion systems and can provide cadets a range of training across different types of ships (cargo, passenger, tank ship, tug/tow and offshore supply vessels) there is a significant need to replace our aging training ships. As hurricanes Katrina and Sandy showed, it's in our national interest to acquire new ships for the maritime colleges that not only can serve as state-of-the-art multipurpose training labs for education of our mariners, but also can provide immediate humanitarian and disaster relief assistance without impacting the operational tempo of our decreasing Navy assets.
Visit SUNY Maritime College online.