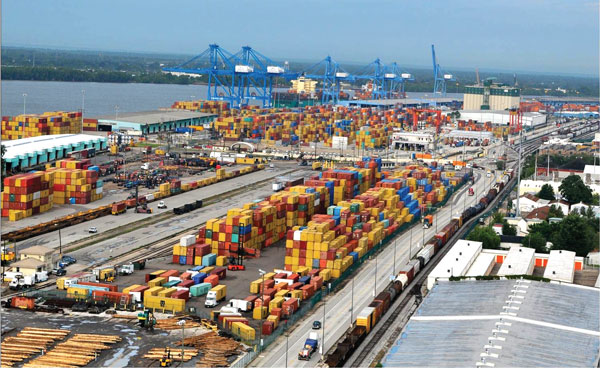 The Port of New Orleans is stealing a march on Houston. In the last year, a combination of public and private investment has added container-handling capacity, infrastructure and processing facilities in the region, enabling the port to lure so much container and breakbulk traffic away from its Texas neighbor that it's forecasting a second year of record volumes.
Driving the growth in container traffic is a joint venture the port concluded last year with Container Marine Terminals, an affiliate of Mediterranean Shipping Co. and Ceres Terminals. Together, the two terminal operators manage half of the Napoleon Avenue Container Terminal, with Ports America operating the rest.
Under the agreement, which formed a joint venture called New Orleans Terminals, MSC located its Gulf load center at the Port of New Orleans. "It didn't exist elsewhere, but probably Houston had the lion's share of their business prior to that," said Gary LaGrange, president and CEO of the Port of New Orleans.
Also helping to increase container volumes were the addition of port calls by three container lines, CMA CGM, CSAV and Zim Integrated Shipping Services, that brought the number of carriers serving the port to eight.
As a result, the port's container throughput climbed to a record 470,347 20-foot-equivalent units in fiscal 2012, which ended June 30. That's only a small increase of about 1,000 TEUs over fiscal 2011, but it was enough to set another record. "Now it looks like fiscal 2013 will be another record," LaGrange said. "In terms of the volume of cargo and revenue, it could be the best year for the port since the 1890s."
That might seem surprising considering the extent to which the drought that seared the U.S. Midwest last year and the resulting low water levels curtailed export grain shipments down the Mississippi River, but that had little or no impact on New Orleans. The port has only one grain elevator and handles few grain exports, which are mostly loaded on bulk ships farther up the river.
"Anyone shipping grain from the upper Midwest is affected right now. We don't have any of that cargo here," LaGrange said. "All of the port's berths are at 100 percent of their authorized depths, and no restrictions on the Lower Mississippi River are anticipated."
The only impact the river's low water levels might have on the port would be if project cargo such as a large component of petroleum refinery handled by the port's breakbulk terminals had to be shipped upriver by barge through the low-water portion of the river between Cairo, Ill., and St. Louis.
"If it goes to Oklahoma, that's not a problem, but if it has to go through the area between St. Louis and Cairo, that's a problem, at least for now," LaGrange said.
The port expects container volume to increase 2 percent in tonnage terms this year as some cargo traditionally shipped in containers moves into breakbulk vessels. "We had two good years of growth, but now it's flattening out, and that's because we had such a spike in breakbulk," LaGrange said. "It's like watching a pendulum. When breakbulk is up, containers go down a little bit. When containers go up, breakbulk usually goes down a bit."
He said container growth wouldn't be as strong as it's been during the last few years. "The good news is it will still be up," LaGrange said. "That's why we continue to increase our capacity."
The port may land at least one more container line call this year, perhaps a new slot-chartering agreement on an existing carrier service similar to the service Hamburg Sud and Hapag-Lloyd launched last fall.
The public and private sectors invested some $300 million in the port last year, of which $100 million came from public spending, $100 million by private investors, and about $100 million from the continuing rehabilitation of facilities and equipment damaged by Hurricane Katrina in 2005.
Some of the new public investment focused on expanding the port's container capacity, while the private investment went toward building new facilities in the industrial corridor along the Mississippi River between the port and Baton Rouge that process petroleum and petrochemical products for export.
"We are going through a renaissance on the canal by creating value-added types of projects, like the stuffing and splitting of containers, which we'd never had before," LaGrange said. "The idea is to benefit from Louisiana products, specifically chemicals and petrochemicals that are manufactured between here and Baton Rouge, in what we call the Ruhr Valley of North America."
The new facilities will process these commodities locally rather than having them trucked to Texas for export. "Having that done on the new industrial corridor means everything can be put into containers here and brought to our terminals for export," LaGrange said. "We never had that value-added component before, because everything was done in Houston, which benefited from it. It cuts down on transportation costs and keeps it here."
The new value-added facilities along this industrial corridor may tilt the balance of the port's container volumes toward more exports. "We are predominantly an import port, but that's why we are adding the value-added facilities to process Louisiana products for export," LaGrange said.
In 2008, the Louisiana Legislature passed a $5-a-ton tax credit on imports and exports of products made in the state. "If we can get those rules promulgated by the Legislature, that tax credit would generate a huge shift in cargo to the port of products that are now manufactured in Louisiana and shipped to other states for export."
Such exports would include poultry, soybeans, grain and anything made in the state or imported as a component of products made there. For example, imports of pepper mash from Central America used to make Tabasco sauce at the McIlhenny plant on Avery Island would benefit from the tax credit.
The port authority spent $10 million last year to expand the capacity of the Napoleon Avenue Terminal from 366,000 TEUs to 640,000 TEUs with the purchase of two 100-foot-gauge cranes. It plans to boost capacity to 1.5 million TEUs over the next few years when it completes construction of a new intermodal container transfer facility next to the Milan Street terminal, another container terminal operated by New Orleans Terminals.
The port awarded a contract to engineering firm AECOM in January to design and build the new rail ramp, which is being funded by a $17 million TIGER grant, and is spending another $8 million to $10 million to complete it. The rail ramp will give the port another 200,000 TEUs of annual capacity with its four-acre marshaling yard and 12-acre intermodal railyard. When completed this year, the port's capacity will be 840,000 TEUs a year.
The port agency also spent $21 million to gut and renovate two old cruise terminals and create new terminals of 170,000 square feet that can accommodate some of the largest cruise ships, and is preparing to build a third terminal.
The $100 million in private investment included $70 million from Folger's Coffee to relocate a facility from Kansas City, Mo. The London Metals Exchange also built two buildings that will add 300,000 square feet of warehouse space on the Inner Harbor Navigation Canal. The LME has designated New Orleans as one of a limited number of sites worldwide to hold metals until manufacturers are ready to use them. It's the second-largest LME site in the country behind Detroit and has more copper, zinc and steel in storage than anywhere else in the U.S.
One of the new value-added processing facilities is the $40 million New Orleans Cold Storage facility, the largest flash-freezing facility in the Northern Hemisphere, which was completed in 2012, in time to boost the port's refrigerated poultry exports by 6 percent.
The cold storage facility is on the Henry Clay Avenue Wharf of the Nashville Avenue container terminal operated by Ports America. It's one of five terminals along the Inner Harbor Navigation Canal on the Mississippi that the port is considering upgrading to handle new manufacturing plants. The port is in talks with an asphalt company that will import asphalt from Jamaica, for which it would build a new terminal at Jordan Road.
"We are looking at upgrading the other four terminals, which will provide for direct import and export service in areas that we haven't seen before Katrina," LaGrange said. "They are former container terminals, and we would convert them to handle anything that is value-added." 
Contact Peter T. Leach at pleach@joc.com and follow him at twitter.com/petertleach.