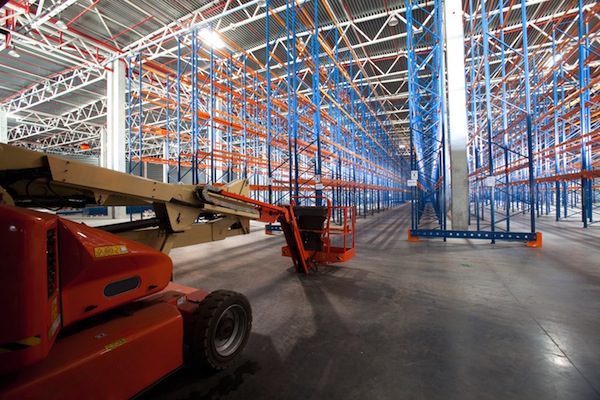 Multichannel and e-commerce supply chains are driving construction of large distribution centers with higher ceilings, sophisticated technology, and more space for labor-intensive activities, according to a report from real estate company Jones Lang LaSalle.
Today's "big box" distribution centers are considered warehouses or distribution centers that cover more than 250,000 square feet and are designed to hold and distribute finished goods.
This sector has outperformed the rest of the industrial real estate market since the recession as large, well-capitalized firms have snapped up prime facilities in desirable locations.
Several years of limited construction have left available facilities in short supply. "As a result, we see a market with rising rents and supply growth as emergent factors," the Jones Lang LaSalle report said.
Kris Bjorson, head of Jones Lang LaSalle's retail and e-commerce distribution group, said there's speculative building of big-box distribution centers in a handful of markets, mainly big ones such as California's Inland Empire, but that most of the large DCs are built to suit a particular client's needs.
"Retailers are anxious to create effective multichannel strategies that cater to new customer expectations, such as same-day delivery as well as e- and m-commerce," Bjorson said. "This means re-evaluating their supply chain networks and distribution models down to one of the most important components, their distribution centers."
Key considerations in site selection for big-box DCs include intermodal rail access, land availability and costs, and access to population centers that demand quick delivery and can supply the workers needed to fill a DC's staffing needs.
The new generation of big-box DCs is not only larger but is designed differently than those of just a few years ago, the report said.
Customers of industrial real estate developers are demanding clear heights of 36 to 40 feet and two or three mezzanine levels for picking, packaging, gift-wrapping, returns and other back-office tasks. As recently as the mid-1980s, heights of 20 to 24 feet were standard.
Higher ceilings allow more intensive use of floor space. A 36-foot roof height allows 12 to 25 percent more pallet capacity than a 32-foot height, allows wider column spacing that uses space more efficiently, and provides mezzanine space for labor-intensive activities.
Increased staffing requirements of these DCs require more acreage for worker parking, as well as better lighting, fire protection and heating and cooling systems. Automation and technology also are key to efficient operations
"In addition to up-front capital costs in the facility itself, retailers have to plan for other ongoing costs associated with increasing automation, such as investments in material handling systems, conveyor sortation and controls, warehouse and inventory management software, and picking/packing technology," Bjorson said.
Older DCs in desirable locations can be retrofitted by raising their ceilings. Bjorson said this typically costs $4 to $8 per square foot and is done only in response to client requests and not on speculation.
Contact Joseph Bonney at jbonney@joc.com and follow him at twitter.com/JosephBonney.