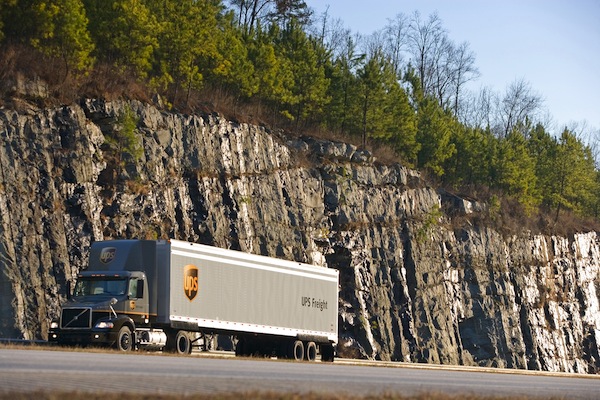 Less-than-truckload carrier UPS Freight will expand its full truckload business in 2013 as changing shipping patterns and tight capacity at traditional truckload operators spur more intramodal shift, President Jack Holmes said.
"Retailers that over the last couple of years have really challenged themselves on the supply chain have gone from heavy use of parcel and lighter, more frequent shipments to a more consolidated model" and toward truckload shipments, he said in an interview.
"We've had customers who have moved away from parcel into a mode where they know UPS and UPS Freight the least, truckload," Holmes said. "We've challenged ourselves to provide more truckload offerings for the shipping community."
Although he wouldn't release truckload volume or revenue data, Holmes said the new truckload offerings "in the last couple of months have been very well received."
At the same time, Holmes said he expects tightening truckload capacity to create more opportunity over 2013 to convert full trailerloads into LTL shipments. And in some cases, UPS Freight is also helping shippers convert LTL freight to parcel.
"We can go in and help them determine what would happen if you took shipments off a pallet and moved them parcel," he said. "A lot of charges exist in the freight world that don't in the parcel world. They can reduce pricing up to 20 percent."
That consolidation and concurrent deconsolidation is being driven by several factors. Start with high truck prices and a shortage of available drivers on one side and on the other add e-commerce, lean supply chains and tight delivery windows.
Add a slowly improving economy to the recipe, and more advanced technology to help optimize supply chains, and freight can begin to move in unusual patterns. "We'll see more and more customers utilize a multimodal model," Holmes said.
Truckload functionality has been added to UPS's Worldship shipping software platform, he said, which allows customers to decide whether to ship parcel, LTL or truckload. "We put a team together to take our present offering and expand it."
UPS Freight rolled into 2013 with a strong finish to 2012. The carrier increased revenue 6.5 percent in the fourth quarter to $602 million and 3.4 percent in 2012 to $2.38 billion for the year, making the Richmond, Va.-based trucking arm of UPS the fourth-largest U.S. LTL carrier.
LTL shipments rose 1.9 percent year-over-year in the fourth quarter to 2.5 million while the average weight per shipment increased 2.9 percent to 1,095 pounds. UPS Freight handled about 10.1 million LTL shipments in 2012, a 1.1 percent drop.
Effective limits on truckload capacity, including higher equipment costs and especially truckload operators' difficulty hiring and keeping truck drivers, will exert supply chain pressure that could increase LTL tonnage in 2013, Holmes said.
"LTL is kind of the meat in the sandwich," he said. "Anytime you have truckload capacity coming out, you'll have larger shipments falling into LTL." The reverse happened during the recession, when truckload carriers had too many trucks.
If the economy heats up in the second half of 2013, "truckload carriers won't be able to haul all the truckload freight, it will be introduced into the LTL environment, and the lack of LTL capacity is going to show itself pretty quick," Holmes said.
Contact William B. Cassidy at wcassidy@joc.com and follow him at www.twitter.com/wbcassidy_joc.