Container carriers "shooting for the stars" failed to lock up announced reefer rate increases of $1,500 a load at the beginning of the year, but most reefer customers are paying $200 to $700 more than last year, according to a number of shippers and carriers. And, by the end of the year, the rates could go even higher.
"Carriers were shooting for the stars, with a rate increase of $1,500 and hoping to land somewhere below that — which is what ended up happening," said Teresa Pittillo, president of Georgia-based Poseidon Forwarding, which specializes in refrigerated food shipments.
Actual rate increases vary by carrier and trade lane, with various factors — including service levels and commodity mix — playing a role, but the consensus is that rate hikes for frozen cargoes, especially in the trans-Pacific, were in the $200 to $300 range, with perishable cargoes capturing higher rate increases.
"Basically, how it ended up was a sort of calculation: relationship vs. volume vs. trade lane vs. equipment needs and guarantees," Pittillo said. "If I'm shipping a lot with a carrier out of Oakland and have been for years, I think the loyalty is recognized."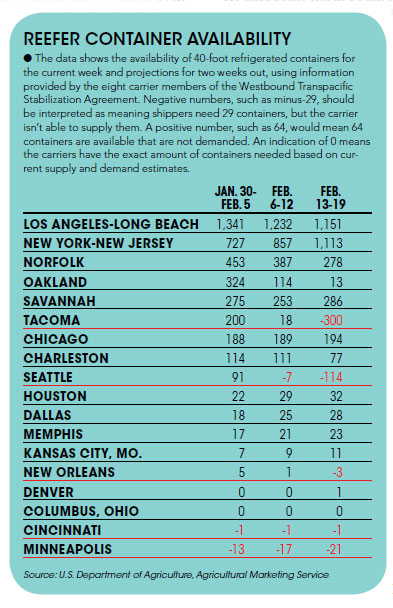 She said it would not have been possible for the food industry to have absorbed the full $1,500 rate hikes carriers sought. "In addition to this GRI, shippers also are looking at the threat of a strike on the East Coast and Gulf Coast. Everything is still fluid," Pittillo said.
Carriers acknowledge they weren't able to sign shippers at the highest end of the increase. "Where it ended up wasn't $1,500; it was certainly something less than that," said Vince Rankin, APL's director of refrigerated trade for the Americas. "We had some success in some trades and not so much in other trades."
He said some north-south routes, such as South America to Europe or Asia, were able to capture higher increases than in the more competitive trans-Pacific. "Clearly, increases for perishables were higher (than for frozen cargoes), but that is consistent with the nature of the market and the cost of those services," Rankin said.
Jay Knutsen, director of refrigerated service for OOCL in North America, said the carrier was more successful in applying rate increases to cargo moving out of the Pacific Northwest and the all-water routes to Asia off the East Coast. "We had a more difficult time with business coming out of Southern California," he said.
The higher level of competition through the Southern California ports can be quantified through a weekly report by the Agricultural Marketing Service of the U.S. Department of Agriculture. A weekly container availability report compiled by the AMS shows there was a surplus of 1,341 40-foot refrigerated containers available at the ports of Los Angeles and Long Beach during the week of Jan. 30. The same report shows that during the week beginning Feb. 13, ocean carriers project they will have a surplus of 1,151 40-foot reefers in San Pedro Bay, but a shortage of 114 40-foot boxes in Seattle and a shortage of 300 in Tacoma.
Maersk Line, the world's largest container carrier, started the rate hike parade in September when CEO Soren Skou said the carrier was raising the rate of every shipment in every trade lane by $1,500 on Jan. 1. At the time, Skou said the carrier was raising rates, even if it meant lost market share, something Maersk had not been willing to surrender in previous years.
"From a customer standpoint, there is obviously quite a bit of concern, but the market has followed us with its own version — a variety of versions — of our increase," said Bill Duggan, Maersk's vice president of refrigerated services in North America. "The market will settle where it can bear to be. "I think we've been a little surprised that we haven't lost many customers. Most customers realize that we had to increase rates in order to invest enough to provide reliable service."
Maersk is thought to control about 25 percent of the global reefer container market, and carrier executives have spent the past several months drilling home the message that high-quality service requires billions of dollars of capital each year, an investment that hasn't been getting an adequate return.
Just before Skou's rate hike announcement, the carrier had said it would buy no new reefer containers in 2013. In fact, the Maersk reefer fleet is expected to shrink by about 14 percent this year because the company will continue to scrap its oldest containers following a seven-year life replacement cycle. Although Maersk owns two reefer box manufacturing facilities, Duggan said purchases won't restart until rates reach acceptable levels.
Norwegian financial analyst Nordea underscored the importance of rate increases to Maersk's bottom line, saying that if the carrier had been successful in getting the full $1,500 per load, it would have translated into an additional $1 billion in 2013. Nordea has forecast a "success rate" of 30 percent for Maersk Line and predicts an additional $300 million in revenue this year.
Maersk isn't alone in forgoing box purchases this year. Following two years of record expansion of the global reefer fleet, most carriers are sitting out this year, or at least buying only enough to replace what is scrapped.
The Maersk Container Industries plant in China is thought to have few orders this year with its biggest customer on the sideline. The subsidiary is going ahead with construction of another reefer factory in Chile, which is scheduled to come on line at the end of the year. No contracts have been announced for that plant.
Since the global recession in 2008, container leasing companies have become a much bigger presence in the reefer sector, but their buying spree seems to be slowing as well.
Container leasing rates have dropped in the last two months, and container purchase prices are lower as well, because of decreased demand. Industry observers say they aren't low enough to bring out bargain hunters. "APL will be keeping the status quo on our reefer fleet," Rankin said. "We'll replace what we scrap, but we aren't expanding — the losses have been so great industrywide. The return on reefer containers hasn't been sustainable — that's undeniable."
He said a drop in the price of containers won't necessarily spur investment. "Overall, that's not going to have a huge bearing. Ocean rates have a much bigger impact than the cost of the container," Rankin said.
Click Image to enlarge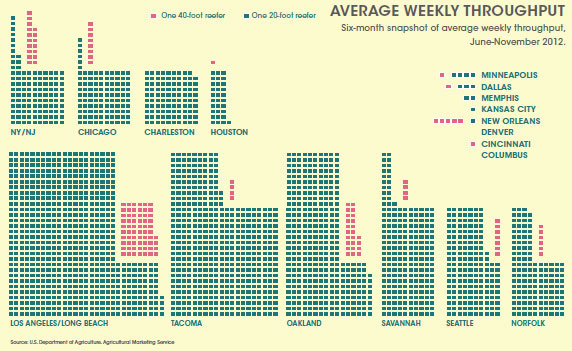 Carriers agree the rate increases this year aren't enough to turn the tide toward profitability. "The industry will be back for more increases," Rankin said. "We haven't announced any further GRIs for the year. The timing may need to coincide with certain commodities or contract cycles."
Poseidon's Pittillo said some carriers already have signaled they will seek another increase April 1. "When the full $1,500 didn't go through for January, we had carriers tell us, 'OK, part now, part in April," Pittillo said. "It's probably good strategy on their part. More reefer cargoes will be moving then. If the ships are full, it will be easier for the increases to stick."
Bob Weiss, administrator of the Food Shippers Association, said uncertainty surrounding rate hikes is especially hard on food exporters. "In 2012, carriers tried three times to raise reefer rates by $300, and all the attempts failed," he said. "So this time they used the strategy of announcing an outrageously huge hike so they could get something. The problem is, how are exporters supposed to compete in a global market when they don't know what to charge or quote a customer?"
He said apple exporters in mid-December were staring at announced GRIs of $1,500 per container plus possible strike-related congestion surcharges of $1,200 per container and potential repositioning fees. "What are you supposed to do on Dec. 8 when someone wants a quote?" Weiss said. "Is the shipping charge $2,700, $5,400 or more? It makes it hard to make a deal."
Breakbulk reefer vessel operators have been the unintended beneficiaries of the container rate hikes and pullback on investments. The fleet has shrunk dramatically in recent years as older vessels that were inefficient to operate were scrapped as fuel prices rose.
Some in the reefer sector say the container lines expanded into too many service lanes and bought more equipment than was financially viable while keeping rates artificially low in an attempt to quickly capture market share.
Howard Posner, North American director of breakbulk reefer carrier Seatrade, said the container industry dialogue shows that box carriers underestimated the cost of providing reefer service. "We're seeing rates go up, and we're a little more optimistic about the possibility of long-term expansion in the industry," he said. "Last year, we saw record low rates, combined with high fuel costs."
Scrapping of breakbulk reefers is expected to slow during the next several years. "Scrapping isn't over," Posner said. "Some vessels in the global fleet are pretty old. When we reach 2015 and the low sulfur fuel requirements kick in, I think we'll see more of the fleet retired. In order to comply with the environmental mandates, carriers would have to invest in scrubbers or retrofit engines."
Posner said, however, that Seatrade vessels are in demand by customers. "We're a niche industry and we know it," he said. "We won't carry everything everywhere."
Weiss said one topic has been conspicuously absent from the rate discussion. "We haven't heard from carriers that they will improve their service," he said. "If service was better, some exporters could make more money. If service was faster and more reliable, they could sell a box of chilled meat and get a lot more than selling frozen meat. Then they could afford to pay an additional $1,000 in freight." 
Contact Stephanie Nall at stephnalljoc@gmail.com.