Trans-Pacific eastbound spot rates held on to their gains from last week and continued to retain gains from a partially implemented mid-January rate increase, according to the Wednesday release of the weekly Drewry Hong Kong-Los Angeles Container Rate Benchmark. The news will be greeted positively by carriers hoping to shore up spot rates in advance of annual service contract negotiations.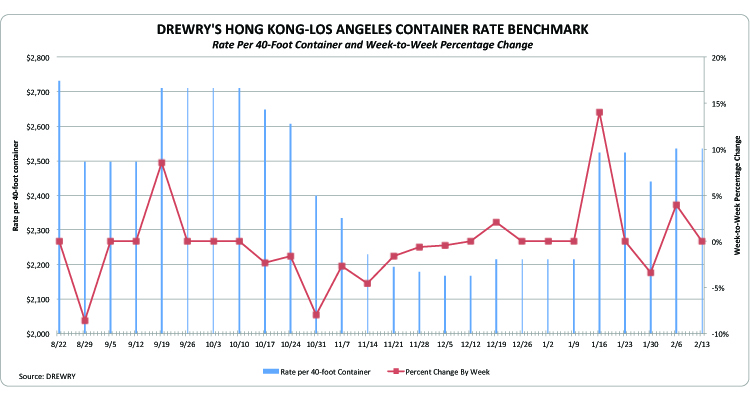 The benchmark this week stood at $2,536 per 40-foot container, unchanged from the previous week and up $323 or 14.5 percent since the beginning of the year. The next scheduled rate increase comes on April 1 when member lines in the Transpacific Stabilization Agreement are recommending an across-the-board general rate increase on all dry and refrigerated cargo in the amount of $400 per FEU to the U.S. West and $600 per FEU to all other destinations.
Carriers "want to ensure that 2013-14 contract rates contain meaningful net increases relative to 2012 contract levels," according to the TSA's Feb. 4 GRI announcement. 
The flat Drewry index compares to a slightly declining Shanghai Containerized Freight Index for shipments from Shanghai to the West Coast. That index as of last Friday stood at $2,445 per FEU, down $30 or 1.2 percent from the previous week.