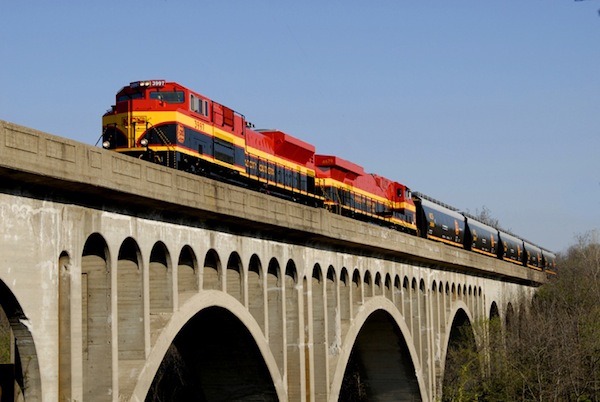 Kansas City Southern Railway CEO David Starling sees 2013 as "bridge year" in that the railroad will haul more loads but the major surge will come in 2014. That's when Audi, Honda, Mazda and Nissan will open up plants in Mexico, bringing more business onto the carrier's cross-border network, he told investors last month.
The U.S. railroad industry as a whole is going through a similar transitional period, said Tony Hatch, senior transportation analyst for ABH Consulting. The signs abound that the days of double-digit profit growth and surging volume gains are over. Hatch isn't worried about the slowdown because coal traffic will stabilize and grain volume will rebound eventually. The rail renaissance is far from finished and appears to be just revving up for the next leap in growth. But in the short term, the slowdown can be seen in the following:
— U.S. Class I profit growth, excluding privately owned BNSF Railway, slipped 0.64 percent year-over-year in the fourth quarter, after falling 1.6 percent in the previous quarter. 
— Industrywide volume shrank 1.6 percent year-over-year in the last quarter and ended the entire year up only 0.2 percent from 2012.  
— Although the North American railroads plan to spend the most ever on capital projects, the share of revenue to be spent on capital projects appears to be shrinking slightly. The seven Class I railroads will spend $24.5 billion on their U.S. networks this year and $13 billion of it will go toward capital projects, according to the Association of American Railroads. The railroads' capital investments in Canada and the U.S. are expected to represent about 18 percent of the industry's total revenue in 2013, a 0.7 percentage point decrease from the previous year, wrote Stifel Nicolaus analyst Michael Baudendistel. The slight shift comes as the industry forecasts 3 to 4 percent volume growth and has to implement crash-avoidance systems to satisfy the federal-mandated positive train control rule.
If railroads were spending less on maintenance, Hatch said he'd be concerned and it's too early to determine whether the change in the capital-to-revenue ratio is worth being worried about. The capital spending is still high, with BNSF planning to invest $4.1 billion this year, the largest-ever capex spend. Besides, there is also the question whether the ratio is valid any longer, considering it showed "the work/cost story when revenues were basically volume." Now, pricing and fuel surcharges are a bigger part of year-over-year revenue growth, suggesting the ratio isn't as useful of an indicator as it used to be.
U.S. rail profits are still enviable, with Union Pacific Railroad hitting a record $1 billion profit in the fourth quarter. U.S. earnings in 2012 rose 7.7 percent year-over-year and revenue expanded 3.1 percent, exceeding U.S. GDP growth. Plus, BNSF, owned by Berkshire Hathaway, hasn't reported its fourth quarter and full-year earnings. The western railroad will likely perform more like UP than CSX Transportation and Norfolk Southern, both of which have been hit by steep coal-hauling declines. Weak coal and grain traffic is expected to stabilize this year, and coal exports, which fell off in the second half, will also likely recover in the longer term.
Railroads' capital spending on intermodal and shale serving networks and shippers' concurrent investments in their shale, auto and chemical businesses take a few years to bring new loads, Hatch said. "Nobody just flips the switch," he said. CSX's National Gateway project and NS's Crescent and Heartland corridors are just beginning to reap new intermodal business. For intermodal, the bridge period may have begun in the last quarter, as volume rose 2 percent year-over-year compared with a 4 percent full-year gain. It's unclear how much of the deceleration of growth was caused by one-time factors — such as the impact of Hurricane Sandy and concerns about an East Coast port strike — and how much general economic uncertainty dampened traffic, according to the Intermodal Association of North America.
Domestic intermodal volume last quarter rose 4.9 percent year-over-year to a record 1.8 million loads, but the gains were the slowest since the beginning of the economic recovery, IANA said. Major railroads hope intermodal demand will rise in the second half of the year because federal regulations will make it harder for trucking companies to find drivers, reducing capacity and raising prices as a result. International intermodal suffered from a weak peak season, failing 0.7 percent year-over-year in the fourth quarter.
"A still-sluggish economy could slow growth, and most economic forecasters remain very cautious about 2013, with consensus GDP forecasts in the 2 percent to 2.5 percent range," according to an IANA fourth quarter report. "If true, this would be sub-par, and likely would continue to weigh on international intermodal.  But it would take a major downturn to halt domestic container growth, which likely will continue to be the backbone of intermodal success in the near term."
In addition to intermodal growth, the industry has yet to see the full potential of the domestic energy boom and the resurgence of U.S. chemical production, Hatch said. Much of BNSF's capital spending this year will focus on boosting its hauling of petroleum products. CEO and Chairman Matt Rose said the business used to account for 1 percent of the railroad's volume in 2006 and made up 4 percent of its total traffic last year. BNSF ships about 500,000 barrels a day and expects volume to hit 700,000 barrels by the end of year.
The growth of oil and natural gas production, along with the steady expansion of manufacturing, is driving chemical companies to expand and open new plants in the United States. Royal Dutch Shell, for example, is building a $2 billion petrochemical plant in Pennsylvania, and Exxon Mobil plans to build a multibillion chemical plant in Texas, according to reports.
"The reindustrialization of North America will have a profound impact on the railroads," Hatch told attendees of a Midwest Association of Rail Shippers conference last month. 
Contact Mark Szakonyi at mszakonyi@joc.com and follow him at twitter.com/Szakonyi_JOC.