Rates on east-west trade lanes drifted lower in the Friday release of the Shanghai Containerized Freight Index ahead of a one-week lapse of the index because of the Chinese New Year holiday. "The trend seen over the past of few weeks has continued with steady but fairly low declines across all the main trade lanes," ICAP said.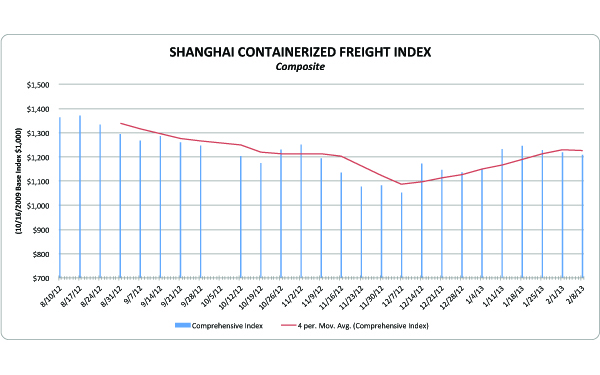 Trans-Pacific eastbound rates slipped marginally during the week ending Feb. 8, losing $30 per 40-foot container, or FEU, to $2,445. It was the third straight week of decline during which time the index gave up $75 or 25 percent of $300 per FEU in gains achieved over two weeks in mid-January tied to the first eastbound trans-Pacific GRI of 2013.
Rates to the U.S. East Coast slipped $24 or 0.7 percent for the week to $3,606 per FEU. Over the past three weeks of declines, the East Coast SCFI index gave up $64 or 20 percent of the gains achieved in this trade lane during the mid-January GRI.
Rates to Europe are showing more weakness compared to the trans-Pacific. Spot rates from Shanghai to northern Europe slipped $15, or 1.1 percent, to $1,301 per 20-foot container or TEU. It was the fourth straight week of decline following a $200 increase achieved over two weeks in early January. The North Europe increase has now lost $117 or 58 percent of the increases achieved in early January.
Spot rates from Shanghai to Mediterranean ports behaved similarly, losing $27 or 2.1 percent per TEU, the fourth week of decline since $252 of increases was achieved over two weeks in early January. The Med index has since given up $98 or 39 percent of those gains.
ICAP said further increases in Asia-Europe are to be expected: "With all the major shipping lines announcing an increase of between $600 to $775 (per TEU as of March 15), then regardless of fundamentals at least a partial implementation should be expected. Of course, the question is whether rates can be maintained post March 15." 
Given the imminent Chinese New Year, "Activity is expected to remain quiet over the next few weeks. This combined with significant capacity reductions may ensure rates remain stable throughout February," ICAP said.