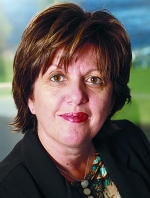 The state of the global economy will likely continue to preoccupy decision-makers during 2013, especially as the maritime sector continues to struggle with financial and capacity issues. Of particular concern for East Coast ports is the enduring debt crisis affecting the eurozone, set against a backdrop of modest gains expected for Canada and the United States in 2013 (in the order of 2 percent). Even China — a beacon of hope during the worst of the crisis — has revised its short-term growth prospects downward.
A fragile economic landscape is further compounded by geopolitical tensions all across the globe: military confrontation in Gaza, persisting conflicts in Syria, rising tensions between China and Japan, and the usual uncertainty surrounding the handover of power in China, among others.
Closer to home is America's stated energy ambition to become the world's leading energy producer by 2020. America's policy of energy self-sufficiency is already having repercussions on Canada's transportation industry, with reversal of pipelines, increased rail shipment of crude and bitumen, and export market diversification, just to name a few. For Canadian ports, this represents potential market opportunities in the liquid bulk business as exporters are seeking to diversify their markets and considering new export outlets. Developments in the energy sector throughout 2013 will likely be closely monitored by all Canadian transportation stakeholders.
Meanwhile, the number of austerity measures adopted by a number of European countries has understandably slowed progress toward a Canada-Europe Free Trade Agreement, which it is hoped should be achieved in 2013. This would be an important milestone for Canada, further strengthening its recovery efforts. This points to the need for ports to further diversify their markets and leverage global growth activities.
Visit the Montreal Port Authority online.