Spot trans-Pacific eastbound rates unexpectedly gained this week, according to the Wednesday release of the Drewry Hong Kong-Los Angeles container rate benchmark. The index was up 4 percent to $2,536 per 40-foot container.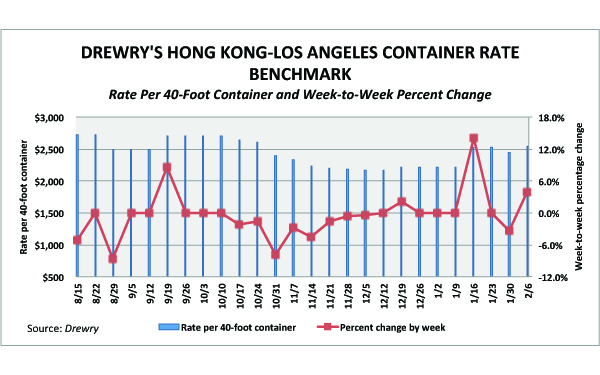 The increase defied recent trends in which increases tend to be associated only with general rate increases; in mid-January rates shot up 14 percent in a partially implemented GRI but were flat or slightly negative in the two weeks since then, and increases last year were usually timed to announced increases rather than spontaneous market changes. The increase in the Drewry index followed two weeks of slight, less than 1 percent declines in the Shanghai-West Coast rate issued by the Shanghai Containerized Freight Index.
Carriers in the Transpacific Stabilization Agreement this week announced an across-the-board general rate increase on all dry and refrigerated cargo, effective April 1, amounting to $400 per 40-foot container to the U.S. West Coast and $600 per FEU to all other destinations.