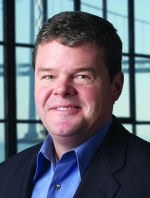 In our 2012 outlook, we concluded that despite the global economic "soft patch," 2012 would bring economic growth and an improvement in the demand for global industrial real estate. We were right. And our conclusion was founded on the fact that the relationship between industrial demand and global trade remained intact and that global trade was past its pre-recession peak, and growing. This did in fact occur, as real trade grew at healthy levels, up more than 6 percent past its pre-recession peak.
We remain optimistic, despite recessionary challenges in Europe and Japan and the sluggish economic growth in the U.S. and China, not to mention the pending fiscal cliff (which at the time of this writing, is a very valid issue). It's because the second half of 2013 shows promise. We expect Europe to be out of its recession and growing once again, albeit moderately, and growth in China and the U.S. to be stronger than economists currently forecast.
This outlook assumes the fiscal cliff is resolved. In China, rising real incomes and internal consumption should stimulate demand. In the U.S., we expect a lift to housing, which should add significantly to GDP growth in the second half of the year.
Also encouraging, and a major trend we expect to see continue into 2013, is the diversification of the industrial space market recovery and the return of demand from the small-space (100,000 square feet or less) users. We are entering our 12th quarter of recovery in the industrial space market.
Big-box spaces have experienced the most demand over the past 12 to 18 months and are now scarce in many major markets. After stagnating around the 13 percent mark from 2009 to mid-2011, small-space availability finally began to descend during 2012, dropping 50 basis points year-over-year to reach 11.9 percent in the third quarter of 2012, the lowest rate since the second quarter of 2009, according to CBRE Econometric Advisors. Should the fiscal cliff be avoided and the housing market recover, this trend among small spaces should accelerate, pushing down overall availability and enabling acceleration in sluggish rent growth on smaller spaces.
While prime industrial in many global markets has enjoyed rent growth for several years, 2013 should see the industrial-space market recover, continuing to diversify to more markets, submarkets and property size segments.