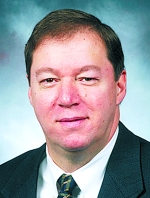 Strong leadership enables us to face today's challenges and prepare for the future. We are fortunate that our founder, Mr. A.P. Moller, established an enduring vision and provided a clear understanding of what we stand for. Maersk Line's values include regard for associates, constant care, uprightness and humbleness. These values guide us and enable us to make confident choices that help steer our business and many times the industry as a whole. As Winston Churchill said, "To improve is to change; to be perfect is to change often."
In 2012, Maersk Line, along with the container shipping industry, changed the status quo from unhealthy, volatile rates to a new pattern of increased rate sustainability. By acting to regain profitability, we create a more stable, secure future for carriers and shippers alike. We believe this will be the new status quo for 2013.
This stability allows for investment and innovation within the industry, which is necessary for long-term success. As global shippers continue to fine-tune their supply chains, and face increased challenges and competition in the marketplace, we must continue to deliver superior on-time delivery, service reliability and greater efficiency supported by the new status quo of rate sustainability. Through change, we strive to build a prosperous global ocean shipping industry that will drive performance and the advancements that help ensure a healthy future for global trade.