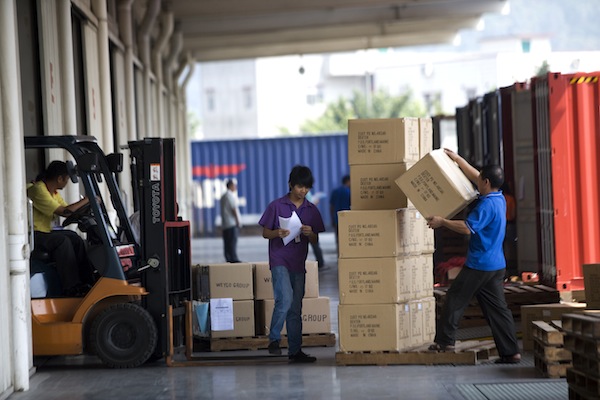 With volumes in the major east-west ocean trades trending flat to down in the last year, non-vessel-operating common carriers are looking elsewhere for growth opportunities. And they're finding them in the fast-growing regional trades, in the intra-Asian and intra-Latin American markets and in the domestic Chinese market.
But as they tap into these new markets, NVOCCs aren't reducing their direct ocean services in the east-west trades — far from it, in fact. Instead, they're adding new logistics services, including customs brokerage, on either end of their port-to-port transportation services and adding inland transportation links that turn them into door-to-door services.
To capture the growing demand for logistics services with and within faster-growing markets in Asia and Latin America, they are teaming up with or acquiring local logistics providers that enable them to offer point-to-point services within intraregional geographies and overseas. They also are rounding out their logistics services in developed markets in Europe and North America.
"Every NVO is rushing to get some kind of foothold to manage logistics in Southeast Asia and China domestically, so it's less and less about freight forwarding between Asia and the U.S.," said Evan Armstrong, president of logistics consultant Armstrong & Associates. "Their focus now is on, 'How can we serve domestic demand in intra-Asia, China and Southeast Asia,' which are growing much faster than the U.S. and Europe."
Take APL Logistics, for example, the Singapore-based NVOCC that is part of NOL Group. Last year, it acquired the 51 percent it did not own in its joint venture in China, APLL-Zinqin, which gives it a full-service logistics capability that provides door-to-door delivery services for Chinese manufacturers, such as computer manufacturers' shipments within China's domestic market, within Southeast Asia and to overseas markets.
"As we looked at ways to strengthen our Chinese domestic logistics presence, one of the first places we looked was whether or not it made sense to acquire Zinqin and make it a core service with APL Logistics China," said Jim McAdam, president of Singapore-based APL Logistics. "Customers who are asking us for international services as well as domestic Chinese services will be able to select from a broad-based menu of service offerings."
APLL derives nearly $400 million of its $1.4 billion in annual revenue from its operations in China, where it operates a network of container freight stations totaling 1.5 million square feet in 11 cities, and warehouses tallying 2.8 million square feet in 14 cities. It provides trucking services through its managed fleet of more than 1,000 GPS-enabled vehicles providing haulage services, cross-border trucking, bonded and unbounded trucking, truckload and less-than-truckload, intercity trucking and in-city pickup and delivery. The acquisition of all of APLL-Zinqin will give it all of the revenue generated by its extensive domestic warehousing network and transportation management capabilities between 2,000 locations in China.
APLL is expanding elsewhere in South and Southeast Asia. It introduced a service called AutoDirect that transports cars in containers throughout Indonesia where demand isn't big enough to warrant service by car carriers. In India, it formed a joint venture with Vascar Automotive of the U.S., which is engineering a service that will transport cars in a new design of railcars on APL's Indialinx double-stack rail service from Mumbai to Delhi.
Other NVOCCs also are beefing up their operations in China and Southeast Asia. Iowa-based Jacobson Logistics acquired two third-party logistics providers serving the Chinese market in 2011: Hong Kong-based Chimerica Global Logistics, which has subsidiary operations in China, and G-Link Express Logistics, a Singapore-based forwarder. The acquisitions expanded Jacobson's logistics services to 16 locations across the Pacific Rim.
Menlo Logistics just opened a 400,000-square-foot warehouse in Singapore to consolidate some of its operations in the region and support the growth of its intra-Asian business. "We had multiple operations in Singapore and South Asia, and as we continued to grow, we wanted to bring most of our projects into a multi-user site," said Bob Basset, vice president of sales and marketing. It is the company's first purpose-built warehouse in the region. "It was time. Our growth demanded it," he said.
Menlo provides distribution for Canon cameras throughout South and Southeast Asia through its new Singapore warehouse. In addition, about 70 percent of the wine imports consumed in South Asia, mostly from Australia, pass through the warehouse.
The San Francisco-based 3PL has other warehouses throughout Southeast Asia, in Malaysia, Thailand and India, where it has 12 projects. "The vast majority of our business in the region is to support local firms shipping intra-Asia," Basset said. "There's not a lot of our business that involves local firms shipping to the U.S."
Yusen Logistics, the Tokyo-based NVOCC that is part of NYK Group, is expanding its services in Latin America. It provides over-the-road transportation services and customs brokerage for regional trade as well as its traditional forwarding for the north-south trade.
"Yusen was never a strong player in Latin America, but in the last two years, we are heavily investing, not only in Brazil, but in Argentina, Uruguay, Chile and Mexico," said Fabio Cotrim, vice president of ocean freight forwarding for Yusen Logistics in Brazil. "We already had offices in those countries, but we have added services that multiplied our revenue in Brazil by four in the last two years."
That revenue is coming from transportation services in the north-south trade with Asia, Europe and the U.S., but especially from forwarding within Latin America, by truck moving freight from Brazil to Argentina and Chile or by ship to Mexico. Because regional cross-border trade within Latin America is rendered very complex by red tape, Yusen added a layer of services to untangle it.
"We now have our own customhouse brokerage in Brazil and Argentina to deal with that paperwork, which is very troublesome," Cotrim said.
The volume of regional cargo Yusen handles within Latin America is growing about 4 percent annually. The trade between Mexico and Brazil is particularly strong. Yusen arranges for all of the sea and land logistics for shipment of Croc rubber shoes from their manufacturing site in Mexico to retail outlets in Brazil. Trade between Asia and Latin America has been growing at double-digit rates for the last few years. Yusen is setting a target growth rate of 30 percent for the volume of cargo it arranges for shipment to and from Asia this year. Cotrim expects that growth to continue.
Other NVOCCs are focusing on rounding out their geographic services in Europe. Last month, Dachser, the Germany-based NVO that is among the largest in Europe, acquired two Spanish companies, Trans-union and Akzar, not because Spain is growing rapidly — quite the opposite — but because the acquisitions round out the company's intra-European offerings and gives it new capabilities in the more robust trades with Turkey and Latin America.
"Our Transunion acquisition gives us several additional countries, principally Spain, their headquarters, but also in Turkey, Peru, Argentina and Mexico," said Frank Guenzerodt, president and CEO of Dachser USA. "From a logistics point of view and for a logistics company looking to expand, those intraregional trades are important."
The two acquisitions are part of Dachser's growth strategy, Global 2.0, which sets the goal of expanding its presence to 50 countries by 2017 from 33 countries now. "Intra-Asia and intra-Latin are probably the two largest growth markets, especially in an air-sea focus for a logistics company like us," Guenzerodt said. Dachser already had a strong organization in Brazil, Chile and Mexico. The Transunion acquisition strengthens its intra-Latin American logistics capabilities as well as its services to the north-south trade between Latin America and North America.
"We expect the north-south trade to continue to increase, and the intraregional trade," Guenzerodt said. The company's single largest area of focus in Latin America is Brazil, where it has 10 offices and a headquarters in Campinas outside Sao Paulo. "We do all international transportation and are also customs brokers, because Brazil, like India, is one of those red tape markets. So we offer door-to-door solutions, north as well as southbound."
With the growth of emerging markets, some NVOCCs that are sticking to their traditional role as wholesalers of vessel space are expanding their ocean trade lanes to those fast-growing regions and teaming up with local 3PLs to provide intraregional services.
"The U.S. economy is coming back slowly, so the westbound trade from Europe is good. But the eastbound trade is slack, so there is no potential for high growth for the next two to four years. What we are doing is looking to technology and the growth of more direct services for growth," said Michael Cadden Troy, CEO and founder of Troy Container Line. "Today, transshipment of cargo is no longer acceptable from the logistics standpoint, so last year we announced that we would have 30 new direct ocean services over the next five years, and so far we have started 12 in the first 14 months to South America, Asia and Europe. It's reaching more points of origin and more destinations."
To support its regional distribution in those markets, Troy linked up with MSL in Argentina to support intraregional trade, and with CP World in Hong Kong to provide services to India and Southeast Asia as well as China. "You have to be full service. It's what our clients, the larger NVOs and customhouse brokers want," Troy said. "They want to be able to source cargo from many points in China, or in the Philippines to the U.S., or from the Philippines to Latin America."
Contact Peter T. Leach at pleach@joc.com and follow him at twitter.com/petertleach.