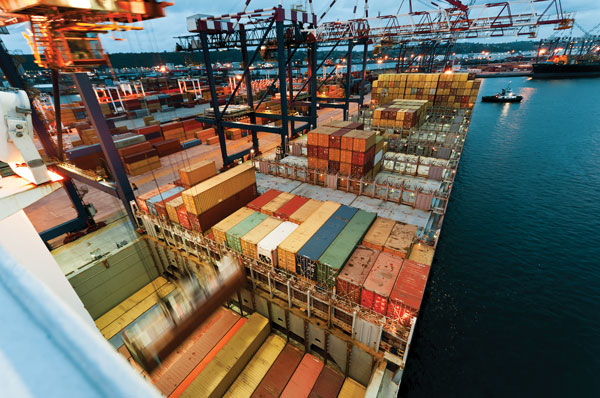 As container ships get larger and the price of oil trends upward, pressure is growing on carriers and terminals to improve port productivity. The stakes are high — ships must be loaded, unloaded and set out to sea faster — and the dividends are too large to be ignored: Ports gain greater utilization of berths, carriers achieve greater utilization of their fleets, shippers see containers flowing more quickly through terminals, and the port system overall can scale up along with the size of ships, much like airport jetways, tarmacs and terminals must expand to handle large new planes such as the A-380.
Perhaps of most immediate urgency, carriers facing simultaneous pressure on freight rates and increasing fuel costs are looking to build as much time as possible between port calls in order to take maximum advantage of slow-steaming while keeping to their schedules. They know that even as costs are climbing, their vessels' on-time performance is coming under increasing scrutiny from customers watching industry benchmarks from research groups Drewry, SeaIntel and INTTRA.
"Stakeholders must show a great 'spirit of imagination' to adapt themselves to the new era of container transportation in huge quantities," said François Peigné, operations director for CMA CGM.
It's apparent, however, that the industry is struggling to meet the challenge. Carriers complain that berth productivity — a global metric measuring the speed at which ships are loaded and unloaded — has improved only marginally or not at all in years. In short, there's much to be done.
 "Over the last five to 10 years, we have seen minimal development in the efficiency of the terminals. Crane productivity has overall remained stagnant," said Tommy Nilsson, head of terminal procurement and strategy at Maersk Line.
APM Terminals, Maersk's terminal-operating sister company, confirmed this last year in a presentation at a Stockholm conference. "Productivity has stagnated," APM said, while illustrating the point with data from 20 of its terminals from 2008-2011 and noting the situation at its terminals is no different from that of the terminal industry overall.
In other words, as ship sizes grow relentlessly larger, terminals' ability to work those ships efficiently is struggling to keep pace. That means ships are in the aggregate remaining in port longer, tying up ports' limited berth capacity; containers and their cargoes are idle for longer; and carriers' fleets sit idle rather than in motion earning revenue. The benefits of the latter point, of course, are debatable in this environment of overcapacity, where slow-steaming has provided carriers with an opportunity to deploy more capacity on existing services.
Still, the need to slow-steam to conserve fuel has infused new urgency for carriers to pursue maximum productivity, where even small improvements can lead to precious additional hours at sea. "Retaining the highest level of punctuality of vessels in ports is our constant objective," Peigné said. "It is beneficial for both the customers of the shipping line and the terminal operator whose resources would not be optimized otherwise."
The mutual benefits of higher productivity to the carrier and the terminal has led to a sense of shared responsibility between the two. Although carriers are terminals' customers, there are a myriad of ways carriers can impact productivity positively or negatively: poor stowage planning, waiting for late containers, missing pre-scheduled berth windows or loading excessive volumes of breakbulk items that take time to stow all reduce berth productivity levels, while avoiding such factors will improve it.
That's why achieving higher productivity is "a shared challenge between carriers and terminal operators as they depend on each other to operate efficiently," said Dennis Lenthe Olesen, head of global operations and business implementation for APM Terminals in The Hague. "Terminal operators need timely and accurate data (load list and stowage) to plan and execute efficiently, and carriers require speedy, consistent and efficient operations (scheduling and vessel calls) to get their vessels in and out on schedule."
Lack of consistency, or variation in operations, "is one of the biggest challenges facing both terminal operators and carriers," he said.
The need to improve productivity is having ripple effects. It's a factor, for example, in longshore disputes in the U.S., New Zealand, Australia and elsewhere, as carriers' insistence on faster working of ships translates into terminals' pressuring longshore workers for greater automation and more flexible work rules. It impacts importers' ability to get access to arriving containers that, in many cases, already are arriving later than in the past because of slow-steaming.
Peigné believes some improvements have been made, saying many terminals where CMA CGM ships call have modernized facilities and equipment resulting in a "20 percent increase in productivity in less than a decade." He noted, however, that much more needs to be achieved. "The multiplication of ULCS vessels (ultra-large container ships, those more than 10,000 20-foot-equivalent container units of nominal capacity) do create serious challenges in many ports," Peigné said.
Achieving higher productivity is a function of carrier and terminal performance. Terminals must invest in new and faster cranes, including ones that can handle more than one container at a time, and must achieve efficient yard operations through state-of-the-art management, equipment and information systems to avoid bottlenecks on the terminal grounds.
Carriers can contribute to superior berth productivity through effective stowage planning and avoiding time-consuming practices such as holding ships for special customers' late containers, loading too many breakbulk items or working ineffectively with local customs and immigration agencies whose needed approvals can play a role in determining when operations can commence and when ships can depart.
As a result, carriers are leaving no stones unturned in identifying opportunities to reduce port stay time. "We are addressing productivity with a 360 degrees mind-set, i.e., challenging both ourselves and the terminals on how to improve efficiency," Nilsson said.
"Productivity has an enormous impact on our network," he added. "There are no quick fixes nor universal solutions to increasing productivity. However, in general, the best-performing terminals are those with clear and simple procedures, as well as mechanisms in place to incentivize labor to operate at maximum efficiency."
Dean Davison is a senior consultant with Ocean Shipping Consultants, a unit of Royal Haskoning, in Surrey, U.K.