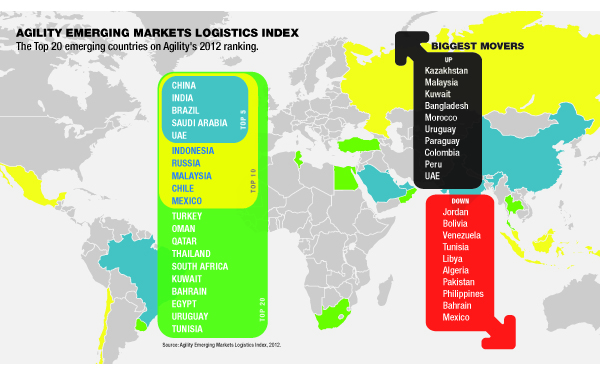 Between 1995 and 2010, the value share of world merchandise trade in developed countries declined from 69 percent to 55 percent, while that of developing countries increased from 29 percent to 41 percent. South-south trade — commerce between developing countries — increased 13.7 percent a year for the period, well above the world average of 8.7 percent, according to U.N. economic data. 
The data underscore the seismic shift under way in global trade patterns as developing nations in Asia, Europe, Africa and the Americas account for an increasing amount of fast-growing global trade.
And that means huge opportunities for third-party logistics providers looking to expand their global footprint and extend a double-digit growth pattern.
The trade shifts signal a fundamental realignment of established trade routes. "Completely new logistics passageways will appear on our world map," global consulting firm PwC says in "Transportation & Logistics 2030: Emerging Markets," a report now on its third volume. "New trade corridors between Asia and Africa, between Asia and South America and within Asia will re-chart global supply chains."
Driving the trade shifts are robust manufacturing growth and fast-growing middle class populations in China, India, Mexico and Brazil and throughout the developing world. China soon will be involved with 17 of the world's 25 biggest trade routes, said Klaus-Dieter Ruske, PwC's global transportation and logistics leader.
Many developing nations are emerging as logistics hubs. South Africa, for example, could become a gateway to all of sub-Saharan Africa, where China is investing billions of dollars in infrastructure and natural resource development. Ten to 20 African nations are likely to become important global logistics markets, Ruske said. 
Africa's collective GDP is expected to reach $2.6 trillion and consumer spending $1.4 trillion by 2020, according to the McKinsey Global Institute.
How will the emergence of new logistics markets impact the global 3PL industry? Given their scale and experience, major U.S. and European-based 3PLs are likely to continue to dominate the market for global logistics services, at least for now. But in the fast-growing south-south trades, especially intra-Asia trade, local companies are becoming increasingly competitive, and ramping up to meet strong demand.
More collaboration is likely among global 3PLs. To compete on service and extend their global reach, 3PLs based in emerging markets may look to acquire or merge with major 3PLs. "Domestic service providers will be able to stay competitive if they stick to domestic markets and collaborate with established companies," Ruske said.
Success for 3PLs in emerging markets requires patience, persistence and a lot of local knowledge, said Essa Al-Saleh, president and CEO of Agility Global Integrated Logistics.
3PLs face many hurdles in emerging markets, including finding enough people with the right skills to manage logistics in emerging markets. Kuwait-based Agility, a global leader in emerging market logistics, invests heavily in education, training and development.
A key skill for 3PLs new to emerging markets is managing expectations for clients on both sides of transactions. Different service expectations prevail in different markets, along with different regulations, standards and ways of doing business. The key is communication, so that service commitments are always met. "Whatever promise you make, you have to deliver on, even if it takes 10 days instead of three," Al-Saleh said.  
The Agility Emerging Markets Logistics Index ranks and measures the overall attractiveness of 45 emerging markets for investments by 3PLs, shipping lines, forwarders and air cargo carriers. Those 45 markets grew at an average rate of 4.2 percent in 2012, while U.S. growth was 2.2 percent and the European Union contracted 0.2 percent, according to the International Monetary Fund. 
Agility ranks intra-Asia trade as having the most growth potential of all emerging market-based lanes for 2013. More than 50 percent of Agility's Asia business, the company's largest, is intra-Asia trade, Al-Saleh said.
The short-term prospects for emerging market logistics are excellent. "Heading into 2013, enthusiasm for emerging markets is strong among trade and logistics professionals, even as they indicate they are rethinking the importance of low-cost labor, facing tougher choices over how and where to source, and beginning to look beyond the BRIC countries," according to Agility.  
The BRIC countries — Brazil, Russia, India and China — are the strongest emerging markets for 3PLs, investors and exporters. A second tier of emerging markets — Saudi Arabia, Indonesia, the United Arab Emirates, Malaysia, Mexico and Turkey — is poised to gain market share.
Mexico and Turkey are benefiting from the near-sourcing trend in the U.S. and EU. Vietnam, South Africa and Chile also are fast-growing logistics hubs. 
Among smaller emerging markets, those with GDP of $300 billion or less, the United Arab Emirates, Qatar, Oman, Kuwait and Morocco top Agility's index.
A dramatic increase in consumer spending in emerging markets is creating new opportunities in retail logistics for 3PLs. Brazil, with its fast-growing middle class and large urban population, tops the A.T. Kearney Global Retail Development Index, a ranking of 30 developing countries for retail opportunities. Retail sales per capita have grown 12 percent annually during the past four years. Chile, China, Uruguay and India round out the Top 5 GRDI rankings. 
A.T. Kearney's 2012 E-commerce Index ranks the same 30 developing countries for e-commerce potential, and finds explosive growth in many of them. China, Brazil, Russia, Chile and Mexico top the list.
China has nearly 164 million online shippers and an e-commerce market that could reach $175 billion by 2014. The relative scarcity of high-quality logistics services, however, leads to widespread problems for e-commerce companies, including late deliveries, damaged and lost parcels, surly delivery people, slow cash-on-delivery processes, poor return procedures, and no special services such as installation. Sellers also struggle with logistics suppliers' inability to handle large or irregularly shaped shipments.
China's transportation and logistics industry is still in the early stages of development, and is characterized by fragmentation and intense, commoditized competition. Executives in China increasingly see logistics as a strategic area that can offer a competitive advantage, and managing logistics may be the main differentiator as the online market heats up, according to A.T. Kearney.
There are great opportunities for 3PLs in e-commerce, especially on the front end. Web design, order management, transportation management and 4PL capabilities are in demand in emerging retail sectors. So are value-added services such as kitting, packaging, assembly, postponement and returns, said Raj Kumar, partner and supply chain expert at A.T. Kearney. 
For 3PLs, success in markets such as India, China or Brazil depends on building relationships with the right local providers. If 3PLs follow their customers to emerging markets — especially markets where they haven't operated before — the best option is often to find a strong local provider and manage them as a 4PL.
High atop the list of challenges in providing retail logistics in developing nations is distribution modeling. In North America, as companies grow, there are proven models for expanding on local, regional, national and international bases. Demographic data of all kinds is readily available. Logistics hubs are well-established, as are rail, road, air and parcel hubs. 
That isn't always the case in emerging markets, where distribution infrastructures are often works in progress.
Even in China, the top-ranked market on Agility's Emerging Markets Logistics Index, distribution poses major challenges, as domestic and international companies designed for a sourcing/exporting model realign their networks to capitalize on China's booming domestic markets. "The models have not become established yet," Kumar said. "It's more ad hoc."
There is also strong demand for cold storage in many emerging markets, notably India. "If a 3PL can put in some cold storage, they can probably convince retailers to go with them," Kumar said. 
On the other side of the world, it's hard to overstate just how quickly the Mexican logistics market is growing as a result of near-sourcing, primarily in the automotive industry, said Jordan Dewart, president of Mexico and Laredo for Yusen Logistics, Americas. 
Original equipment manufacturers have told some of Yusen's Tier 1 and 2 two automotive supplier customers, most of which are new to Mexico, to be up and running within a year. In their race to comply, they're getting a crash course in Mexican logistics. "They will have to quickly learn the intricacies of doing business in Mexico," Dewart said.
Within the past 24 months, automakers have announced $7.8 billion in Mexican investments, Sean McAlinden, a labor economist with the Center for Automotive Research, told Bloomberg News recently.
Central Mexico "will definitely be the hottest growth area with respect to North American vehicle production this decade," Michael Robinet, managing director of consultant IHS Automotive, told Bloomberg. "The shift to Mexico is not only trying to feed the U.S. and Canadian markets, it's more of a global production play."
Audi chose the state of Puebla, southeast of Mexico City, for a plant to assemble its Q5 sport-utility vehicle for the global market by 2016. "Mexico has more free trade agreements than the U.S.," McAlinden said. "If you're going to build a world car like the Q5 or an Infiniti, Mexico is where you're going to do it."
Shipment to and from Mexico requires what Dewart describes as "a high degree of hand holding," because of the high number of touches per shipment, including brokers, carriers and customs agents on both sides of the border.
3PLs must be expert at managing expectations, particularly those of harried auto suppliers. "Things do not work exactly as they do in the U.S., China or Japan," Dewart said.
CEVA Logistics has a large and growing automotive business in Mexico. The company in October signed a two-year contract with Chery, China's largest independent automaker, for services related to customs clearance and import taxes. Chery has manufacturing facilities in Uruguay and Venezuela and is set to open a $400 million plant in Brazil.
CEVA has operated in Latin America since 1974. The company has 10 branches and some 6,000 employees in Brazil, along with branches in 16 other Latin American nations. 
Distribution patterns are changing as automakers become more familiar with Mexico. An auto supply customer of CEVA that distributes parts throughout Latin America from a hub in Miami is looking to establish in-country distribution. The change could bring order delivery times down from 15 to 21 days to one to three days, said Kim Wertheimer, CEVA's executive vice president of the global industrial sector.    
Distribution of finished goods within Asia, especially apparel and electronics, is a growing business for CEVA. Historically, the company's intra-Asia business was focused on consolidation and forwarding; now, it's investing in additional distribution centers and in designing regional networks.
"For us," Wertheimer said, "it's about creating a distribution infrastructure and then bringing in capabilities from other regions."  
Contact David Biederman at inexdb@comcast.net.