Trans-Pacific spot rates dropped 3.4 percent to $2,438 per 40-foot container this week, showing erosion off a partially successful general rate increase implemented in the middle of the month, according to the Drewry Hong Kong-Los Angeles container rate benchmark.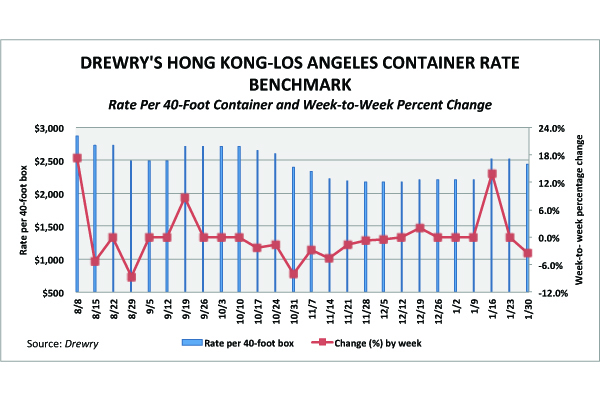 Two weeks ago, the index shot up 14 percent or $311 to $2,524 per FEU, representing half of the $600 per FEU carriers in the Transpacific Stabilization Agreement had hoped to achieve in a Jan. 15 GRI they viewed as critical to propping up spot rates in advance of service contract negotiations. Last week, the index was flat, indicating the carriers were holding on to the portion of the GRI they obtained, but the reduction this week showed those gains may be tenuous.
The increase two weeks ago and this week's slight decline come on the heels of a long slide through the fall in which the index retreated 23 percent from its mid-August high of the year through the end of 2012. Still, Drewry said, due to gains achieved through successful GRIs earlier in the year, the index this week is 33 percent higher than it was at this time last year.