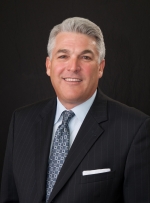 Among the many issues of critical importance to the nation's seaports in 2013 will be more vigorous coordination with the U.S. Army Corps of Engineers and Congress on prioritizing, funding and actually completing projects to maintain the nation's competitiveness on the international stage. This will require leadership and vision to rise above the political rhetoric of our times that has paralyzed progress in too many areas.
Several of my fellow port directors and I, in conjunction with the American Association of Port Authorities, more than a year ago entered into a unique partnership with the Army Corps. The working group identified several ways to streamline harbor project completion, including:
Generating additional policy options to allow non-federal sponsors to construct the "federal" project.
Re-evaluating corps policy concerning the "advanced funds" for authorized projects.
Allowing sponsors to be reimbursed for federal operations and maintenance of the channel, including dredging and maintenance of disposal areas.
Reducing time and cost of feasibility reports.
Maintaining consistent corps policy to ongoing studies.
Refraining from requiring last minute studies or new requirements.
Publishing what is required in the beginning of the process.
Reducing time to obtain corps regulatory permits.
Adhering at all levels within the corps to schedules developed by the district.
Generating policy to allow federal assumption of maintenance when non-federal interests construct improvements.
Congress must accept responsibility to maintain the nation's ports and harbors. Making full use of the Harbor Maintenance Trust Fund is an outstanding first step toward ensuring a sustainable future for American waterway navigation. But with no Water Resources Development Act bill since 2007 and the continuing ban on earmarks, Congress should provide an interim mechanism to allow projects that are time-sensitive and critical to navigational safety and competitiveness to move forward.
I believe we are wise enough in 2013 to recognize that championing port projects will put people to work, support the national push to increase exports and help return our nation to economic stability. In this new year, let's refocus on fundamentals and urge Congress to streamline corps processes, authorize harbor projects and embrace investments in our nation's gateway infrastructure.
Our future depends on it.
Visit the Jacksonville Port Authority online.