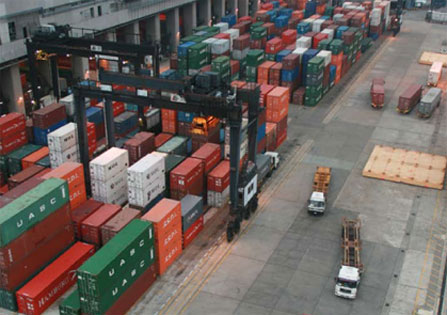 DP World said it expects to meet earnings forecasts for 2012 as container volume across its global terminal network, the world's third largest, grew 2.4 percent from a year earlier to 56 million 20-foot-equivalent units.
The growth was driven by "good" performances in the Americas, Asia-Pacific and Middle East regions, where the company focused on delivering improved efficiencies and productivity.
Adjusting for the divestment of four joint-venture terminals, in Australia, Russia, Yemen and Surinam, like-for-like growth was 3.7 percent.
Traffic in the group's consolidated terminals declined 1.4 percent to 27.1 million TEUs.
"After a strong start to the year we had a challenging second half," Chief Executive Officer Mohammed Sharaf said.
"Our tight focus on cost management and higher quality revenue mean we still expect to achieve earnings before interest, tax, depreciation and amortization in line with expectations for 2012."
DP World referred to analysts' consensus forecast of EBITDA of $1.3 billion.
Traffic grew 6.2 percent in the Asia-Pacific region and the Indian subcontinent to 26.2 million TEUs and was 4.3 percent higher in the Americas and Australia at 6.86 million TEUs. Europe, the Middle East and Africa were down 2 percent at 23 million TEUs.
"Whilst there remains much uncertainty in the macro economy, we believe we are well positioned to make further progress in 2013," Sharaf said.
DP World said it is on track to open new terminals in Santos, Brazil, Jebel Ali in the United Arab Emirates, and London Gateway in the U.K.