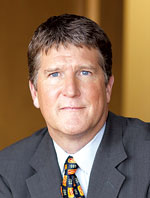 2012 was a rollercoaster ride, and the cards dealt for 2013 promise excitement. These five factors will influence how the global economy develops in 2013, and thus how the global deep-sea car and ro-ro business shapes up.
Surprises. It's not what you don't know, but what you don't know you don't know that gets you in the end. It doesn't take much to change the mood in the markets today, and a surprise event could turn modest growth into a recession. A bank failure, an unraveling political situation or something else we don't expect, could be a tipping point to the negative in the fragile recovery.
Budget cuts. Governments in many developed economies have come out of the global financial crisis in worse financial shape than they entered it. It's painfully obvious that many societies have been living beyond their means funded by cheap credit. This is changing, and governments must find the right mix between reducing budgets and stimulating growth. The outcome of the fiscal cliff crisis in the U.S. will be critical for U.S. growth, and the eurozone needs to adapt spending to actual earnings. .
Political polarization. Rebalancing spending and earnings is painful because it implies reducing public services and increasing taxes. You can already see how this fosters political polarization and social unrest in Europe. The outcome of elections in Germany and Italy will be important telltales for what political winds blow in Europe.
Changes. The foundation for tomorrow's success is laid during turbulent times. The automotive industry is in a challenging situation, particularly in Europe with overcapacity and low profitability. There's a fair chance we'll see consolidation, particularly among the smaller players. We'll also see a shift in focus to other geographical areas, with trade patterns changing to reflect a rebalanced global economy where Asia takes a much larger role. 
Growth. It's not all dark. Growth has picked up in some of the world's major economies. Assuming we're not hit with any of the aforementioned surprises or issues, there's a fair chance growth continues also in 2013. 
Visit Wallenius Wilhelmsen Logistics online.