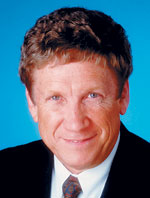 A year ago, we predicted new distribution channels and emerging markets would continue to expand, along with greater supply chain flexibility, efficiency and alignment. These trends are clearly in place and continuing, as are concerns about demand volatility and supply chain risks.
The two most important changes we projected for 2012 were:
Movements toward more demand-driven supply chains.
Supply chain decisions based more on total business factors, not just on logistics or operational needs. 
2013 will see the two most important changes as follows:
Continued diversification of sourcing and production. Global sourcing has matured for most companies, and global production is starting to catch on. Although the push to bring manufacturing back to the U.S. will be talked about frequently, the shift won't be prevalent without significant changes in laws and regulations concerning taxes, real estate/land use, environmental, and labor policies. We do see more near-sourcing and some incremental growth in U.S. production and assembly, but not in substantial volumes this year.
Information technology impacts on supply chains will be evident. Although people will always manage supply chains, the use of "big data" to support decision-making, and the availability of cloud-based systems and platforms to provide near real-time information, and support for risks and disruptions, will begin to play major roles in supply chains.
As in past years, the smarter supply chains will enable profitable growth and will be recognized as such in the boardrooms of more and more corporations.
Visit Tompkins International online.