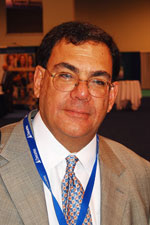 Transportation is an asset-based network-operating business. Historically, the industry draws attention to itself when the network experiences disruption due to weather, labor or congestion. In 2013, the assets themselves may become the center of attention. All three surface freight modes face transformative changes.
Ocean shipping has been the most dramatic. The industry's lemming-like pursuit of new capacity has resulted in plummeting freight rates. Now there is evidence that the assets' underlying value have decreased, too. If this persists, the gap between owning vessels and chartering them will become huge.
The truckload industry has a different problem. The industry experienced an estimated 20 percent capacity shrinkage during the recent downturn due to fleet downsizing (15 percent) and bankruptcies (5 percent.) Investment has been mostly limited to replacing assets, rather than expansion.
The industry also is suffering loss of human assets through changing demographics and increased safety regulations that will decrease the number of eligible drivers and the amount of legal work they can perform.
The rail industry soon may come full circle from its 2007 National Rail Freight Infrastructure Capacity and Investment Study, which identified a $39 billion investment shortfall (of the $148 billion needed from 2007-2035.) With a looming fiscal cliff, yawning deficits, and a resistance to new revenue sources, railroads may tire of seeking public-private partnerships and return to do-it-yourself funding.
The national and global economies have always relied on adequate transportation assets for growth. This may be the year the well runs dry.
Contact T. Prince & Associates.