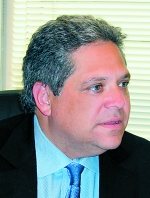 Today we strive for more continuity than ever before.
The challenges our industry faces in certain respects are far greater today than ever before, due in part to social upheavals affecting all of us, as well as an uncertain economic future. These items play a major part in the transportation world, at times forcing more caution than anyone would like.  
Maritime transportation always "ruled the world" to an extent. From the early days, ocean transportation was a means for countries to trade with one another, for people from one land to visit the other and learn new things. It was the basis for any type of economic and political trade.
That has not changed, but we are looking at a different industry today. Containerization "shaped the world," allowing for swifter loading and discharging of ships, larger and faster vessels and more security of cargo than ever before. Terminal operators are more efficient, too, with new and precise equipment, and a stronger operating blueprint. Cities and states understand the need for more efficient road systems to our ports, and it seems that every neighborhood has a rail presence, making the transport of goods, simpler, quicker and easier. 
People strive to find continuity and stability, such as that that comes in the form of the Containerization and Intermodal Institute. CII has sponsored educational forums, awarded scholarships and honored the brightest leaders in our industry, all of whom have made a positive difference and contribution toward maritime advancement. At every Connie event, scholarships are presented to a handful of logistics students and maritime academy cadets, providing a unique opportunity to network with top industry professionals. CII continues to seek out young and enterprising individuals who wish to follow this career party, and we will continue to provide leadership and financing wherever those needs take us.
Visit the Containerization and Intermodal Institute online.