When does a market go from mature to emerging? In the case of the trans-Atlantic ocean trade, it happens when shippers and manufacturers recognize the benefits of sourcing and selling their wares in developing countries such as Russia, Turkey and West Africa.
For an ocean trade lane long dependent on two of the world's largest trading regions — North America and Europe — the emergence of these "newcomers" promises to boost growth, albeit slowly, at a time of slowing mainstream volumes. 
The U.S. and the European Union still dominate trans-Atlantic commerce, and the upstarts will provide a small, but lucrative, add-on. The U.S. and EU account for almost half of the world's GDP, and the bilateral flow of goods, services and investment represent approximately a third of global trade. The EU and the U.S. exported twice as much to each other, with sales worth $368 billion and $286 billion, respectively, in 2011, than they did to China.
This mature trade relationship also has potential to grow faster as Brussels and Washington move closer to starting negotiations on a long-awaited free trade agreement. But a deal is a long way off, and sluggish economic growth in the U.S. and an unresolved eurozone crisis are stalling trans-Atlantic trade.
The December JOC-PIERS Container Shipping Outlook expects total trans-Atlantic imports to slow to 7.8 percent in 2012 from 10.5 percent in 2011. The slide on the U.S. export side has been more dramatic, with 2011's 6.2 percent increase expected to slow to 2.1 percent this past year.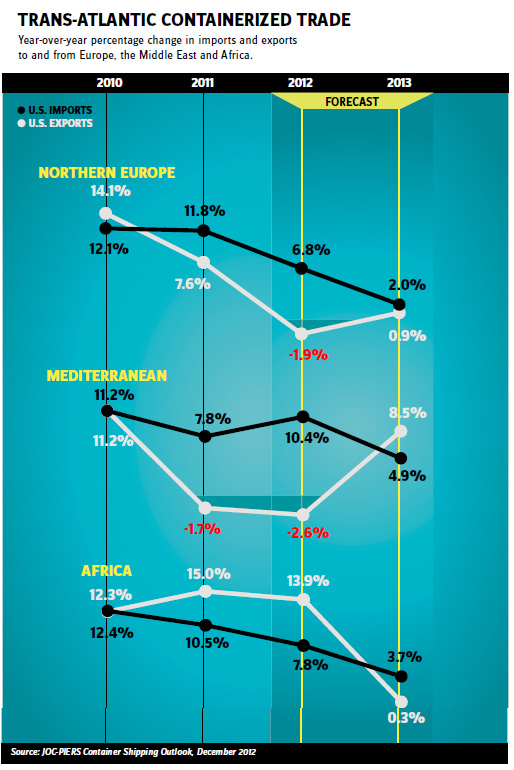 In sharp contrast, Russia, Turkey, Nigeria, Angola and Ghana have been posting solid economic growth and trade figures since the 2008-09 global recession, largely driven by surging oil and commodity prices that have benefited Russia and the three West African nations.  
Russia's long-delayed accession to the World Trade Organization in August has boosted Western hopes of increased consumer imports into a nation of 145 million increasingly wealthy individuals. In December, the United States ushered in a new era in U.S.-Russian relations when it scrapped the Jackson-Vanik amendment, awarding Russia so-called permanent trade relations in exchange for lower tariffs on U.S. exports, intellectual property protection and greater legal transparency.
U.S. exporters, however, face an uphill struggle to make a big splash in a market that bought just $11 billion of their goods and services in 2011 and doesn't rank among their top 30 export destinations. More than 50 percent of Russia's trade is with the EU, and the country is diversifying its commercial links to the Asia-Pacific region rather than North America. Also undermining hopes for an early WTO payoff for U.S. exporters, at least in the short term, was the late-2012 enactment of the Magnitsky Act, which bans Russian officials suspected of human rights abuses from entering the U.S.
Still, there is scope for savvy U.S. companies to expand their Russian business, with economists predicting a doubling of exports in five years to $22 billion.  
A European company, APM Terminals, made the first big post-WTO move into Russia, paying $862.5 million for a 37.5 percent stake in Global Terminals. The deal, the largest foreign investment in the Russian transportation sector, gives the Danish company access to container hubs in St. Petersburg, the Baltic and the Russian Far East.
"The rapidly developing middle class, Russia's integration with the global economy as evidenced by the recent WTO membership and the country's wealth of natural resources will continue to fuel the growth in exports and imports in the long run," APM Terminals CEO Kim Fejfer said. "Russia will need world-class port infrastructure and operational excellence to serve global shipping lines and its own ambition of economic development."
It's no accident that Russia's billionaire oligarchs, enriched by energy and mining investments, are fighting over transportation assets, mainly in the high-margin container terminal and rail freight sectors, as Moscow accelerates market reforms and sells off state monopolies and Russia's domestic and foreign trade surges.
Steel billionaire Vladimir Lisin, Russia's richest individual, in November acquired 75 percent of Freight One for $4.2 billion, adding to the 25 percent he already owned in Russian Railways. A month later, Summa, a $10 billion-a-year energy-construction and telecommunications conglomerate controlled by billionaire Ziyavudin Magomedov, closed on a $1.2 billion takeover of Fesco, a transportation and logistics group that owns Russia's biggest ocean carrier.
Privately owned transportation start-ups also are emerging as metals and mining groups sell their in-house railcar fleets.
Western investors seeking joint venture partners also will get a boost from the international scope among Russia's new transportation groups, including Globaltrans, Transcontainer and Novorossiysk Commercial Sea Port that are listed on the London Stock Exchange. Russian Railways' $1 billion acquisition of Gefco in November and its decision to retain the management of the global logistics arm of French automaker Peugeot-Citroen, also underscore the new openness in Russia's transportation sector.
Russia's cargo airlines, meanwhile, also are looking abroad. Volga-Denpr, owner of the fast-growing scheduled freight carrier AirBridgeCargo, acquired Air Cargo Germany in 2012, and is a potential buyer of a 35 percent stake in Luxembourg-based Cargolux, Europe's largest all-cargo carrier.
Turkey became the poster boy of the emerging markets after posting average GDP growth of 9 percent in 2010 and in 2011, third behind China and Argentina in the Group of 20 cooperation forum. Like Russia's, Turkey's trade is steered toward the 27-nation EU, with two-way flows hitting $160 billion in 2011. The EU and Turkish economies, however, are only loosely integrated, and pressure is growing on Brussels and Ankara to extend their customs union to embrace the services sector, the largest component of both economies.   
Although Turkey is focusing on the Middle East and North Africa as it diversifies its exports from the crisis-ridden eurozone, the country has the potential to become a significant U.S. trade partner as its growing economy matures and its expanding middle class buys American consumer products.
Turkey's exports hit record highs in 2012, but flagging domestic demand slowed economic growth to 1.6 percent in the third quarter, the slowest rate since a 4.7 percent contraction in 2009. Still, the Ankara government expects annual growth to average 5 percent over next decade, a rate that would triple the size of the nation's $780 billion economy. 
U.S. equity fund KRR underscored Turkey's attractiveness in 2007, when it paid $1.3 billion for UN Ro-Ro, a shipping company that shuttles EU-bound trucks to northern Italian ports. More recently, German airline Lufthansa has been examining an alliance with Turkish Airlines, one of the world's fastest-growing carriers. Equally significant, China's HNA transport and logistics group, in 2011 paid $25 million for a 49 percent stake in Turkish all-cargo carrier ACT Airlines to establish a foothold in the European air cargo market.                                                  
Turkish transportation groups also are rapidly increasing their domestic and foreign investments, led by privately held Yildirim Group, which has spent $600 million on a 24 percent stake in French ocean carrier CMA CGM and has built up portfolio of port assets, including container terminals, worth more than $2 billon. 
The new trans-Atlantic market now stretches from the chilly Baltic and the balmy Black Sea to the tropical waters of West Africa where soaring oil exports are financing an infrastructure boom and a rapidly growing urbanized middle class with money to spend on consumer goods. The entire continent is thriving, accounting for 11 of the 20 fastest-growing global economies, according to the International Monetary Fund.
China has muscled out the U.S. and Europe to tap the booming market, with its Africa trade growing 25 percent a year and expected to have hit $220 billion in 2012. But there is still time and ample opportunities for U.S. and European companies to get a bigger slice of the African pie.
Nigeria, Africa's biggest oil producer, has been growing at a solid 7 percent annually over the past decade. In October, Nigeria joined South Africa as the only African nations on J.P. Morgan's government-bond index for emerging markets, and some economists predict Nigeria could overtake South Africa as the continent's biggest economy within a few years.  
Oil-rich Angola, sub-Saharan Africa's third-largest economy, has been growing much faster than the top two since the end of its 28-year civil war in 2002. It was growing at an annual rate of 15 percent before the global recession in 2009 clipped its growth to 7 percent in 2012. Recently reclassified by the World Bank as an upper-middle-income-economy with a per capital income of $8,200, Angola is set to increase imports sharply in the coming decade.
Ghana also is a rising West African star, one of the world's best-performing economies in 2011 with strong exports of oil, gold and cocoa boosting growth to 14.4 percent in 2011 and 8.2 percent last year, according to the IMF.
Even if European and American exporters fail to maximize sales in the new trans-Atlantic markets in the face of fierce Chinese competition, their transportation companies are in the pole position to cash in on surging shipments. 
Contact Bruce Barnard at brucebarnard47@hotmail.com.