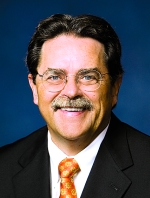 As 2013 begins, economic indicators suggest a more moderate pace of growth. But government reports also forecast significant long-term demand for freight transportation.
Meeting that long-term demand underscores the importance of the nation's railroads investing in critical transportation infrastructure and creating jobs. Railroads have the ability to move a ton of freight more than 450 miles on a gallon of fuel, lower emissions and reduce highway wear and tear, all of which brings new relevance to a nearly 200-year-old industry that is privately financed and maintained.
One area certain to change with additional growth is intermodal transportation. Containerization revolutionized global shipping when the steel container was introduced more than 50 years ago. Today, railroad lines first built in the 19th century are being transformed into high-volume corridors that can handle containers stacked one on top of another.
Similar change and innovation is at the heart of new technologies to extract domestic supplies of natural gas and crude oil, leading some experts to predict that the U.S. will overtake Saudi Arabia as the world's largest oil producer by 2020. Railroads support the shale oil boom by being able to efficiently deliver specialized drilling sands and transport crude to refineries and export docks.
For U.S. business, the energy shift brings opportunities for resurgence in American manufacturing, which drives job creation, hones skills needed for economic self-reliance and defense capabilities, and keeps the country competitive on a world stage. A continued commitment to balanced business regulation, coupled with corporate income tax rates that are in line with the rest of the world's industrialized countries, will be critical to U.S. prosperity in the years ahead.