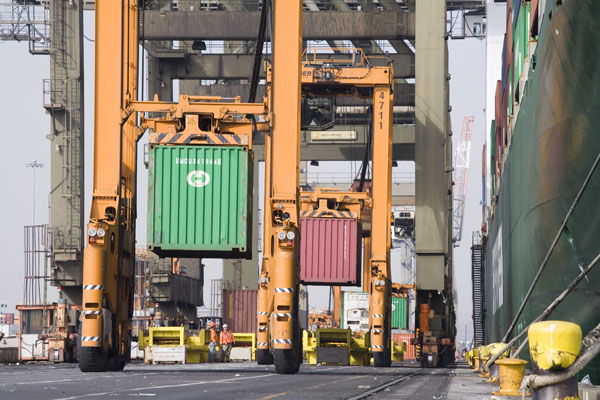 The threat of a strike by the International Longshoremen's Association had a widely divergent impact on cargo volumes at the five major East Coast container ports as two separate contract deadlines loomed in the last half of 2012, first on Sept. 30 and then by extension to Dec. 29.
The Port of Savannah, which is a major gateway for retail imports throughout the Southeast, saw its volumes hit in the fourth quarter as importers diverted cargo to West Coast ports to ensure their supply chains before the contract extension ran out in December. That diversion is continuing this month in advance of the second contract extension deadline of Feb. 6.
"Since October we've been seeing a bleed-off of around 6,000 to 8,000 containers a month to the West Coast, and that is still going on right now," said Curtis Foltz, executive director of the Georgia Ports Authority. "Although we were looking at annual growth in the 3 to 4 percent range last year, that quickly dissipated going into the second half of September and October. It started about a week and half before Oct. 1."
As a result, Savannah's 2012 container throughput, which the GPA had projected to increase by 3 to 4 percent will finish out the year at around a 1 percent increase, Foltz said.
By contrast, the Port of New York and New Jersey, whose hinterland is the largest U.S. retail market, saw its volumes spike during the summer as retailers scrambled to get their products into warehouses and onto store shelves before the first strike deadline on Sept. 30. "We saw that jump in July, August and September," said Peter Zantal, general manager of strategic analysis and industry analysis for the Port Commerce Department of the Port of New York and New Jersey. "Those months were a much higher percentage of our annual volume than they normally would be." The final throughput numbers for the port are not yet available.
Complete coverage of ILA-USMX negotiations
But after the summer spike, New York-New Jersey volumes slipped because of the diversion of cargo to the West Coast and Hurricane Sandy, which closed the port for six days starting Oct. 29 and diverted inbound container ships to ports farther south. As a result, year-to-date container throughput was relatively flat at 0.3 percent year-over-year through November.
The Port of Los Angeles also saw a big jump in loaded container imports in September, which increased 3 percent year-over-year. But perhaps surprisingly, "When we look solely at loaded inbound shipments during the period where importers would have diverted cargo through Los Angeles (July, August, September, October), the volume drops significantly," said Matt Guasco, East Coast regional representative of the Port of Los Angeles.
The ports in between Savannah and New York report less dramatic impact. Baltimore, for example, saw little diversion. "We have such a huge consumer market here, and so little discretionary cargo, because we don't have double-stack rail service, that it didn't impact us as significantly as some of the other ports," said Jim White, executive director of the Maryland Port Administration. The MPA is still finalizing its throughput figures for the year, which will increase in a range between 3 and 6 percent, he said.
Even the Port of Norfolk, which handles a lot of so-called discretionary cargo transported by rail to the Midwest, saw no significant diversion to the West Coast, according to Joe Harris, a spokesman for the Virginia Port Authority. "We told our customers to ship early and they did." The VPA recorded the second best cargo volume in its history, with an overall increase of 9.8 percent for the full year.
The Port of Charleston, which handles less retail import cargo than Savannah, saw its imports come in earlier than usual last year. "It skewed the flow of cargo, because people shipped more cargo than they would normally ship two weeks before the end of September and two weeks before the end of December," said Jim Newsome, president and CEO of the South Carolina Ports Authority. "There was some diversion of cargo that would have come over our port, but it wasn't large because we are not as dependent on retail as other ports."
When the final numbers are compiled, Charleston's container throughput in 2012 will come in at an increase of 9.6 percent, Newsome said.
Contact Peter Leach at pleach@joc.com and follow him at twitter.com/petertleach.