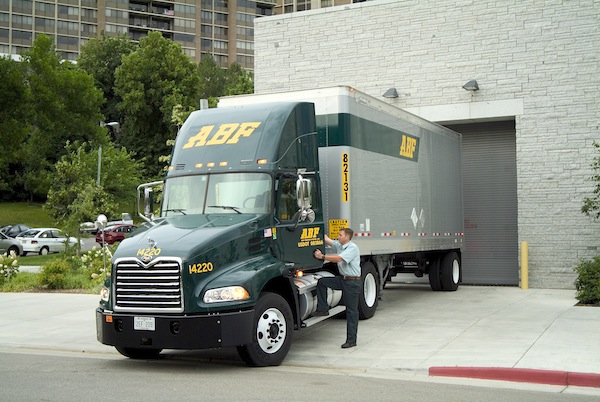 The Teamsters union and ABF Freight System are back at the bargaining table. Negotiations on a new multiyear contract resumed Jan. 8 and will continue through next week, the union said in a notice published on its Web site.
Those talks got off to a contentious start Dec. 19 when the union and less-than-truckload company exchanged initial national and supplemental contract proposals covering 7,500 Teamsters. The Teamsters in a statement slammed increased executive pay at ABF parent Arkansas Best and blamed the recession and erratic economic recovery for losses and thin profits, arguing ABF's margins would improve as GDP rises.
The company shot back that Arkansas Best CEO Judy McReynolds is paid less than her peers and claimed the trucking company's problems will not be fixed by a stronger economy but by "lowering its costs and gaining greater flexibility."
"ABF is negotiating for a vastly different contract," the company said. "The current cost structure of wages, health and welfare and pension simply is not sustainable." ABF said it paid $244 million in union pension and health and welfare costs in 2012.
"If the company is not able to dramatically lower its union labor costs and gain flexibility ... extensive changes to the network including closure of terminals and distribution centers will occur," the company warned in a Dec. 19 statement.
The Teamsters on Dec. 20 called ABF's initial proposal "a real non-starter." The union initially called for a two-year contract with a $1 per hour wage hike in each year, a proposal running counter to the company's drive for labor concessions.
The current ABF-Teamsters agreement, a five-year agreement signed in 2008, expires March 31. A two-year contract would expire at the same time as the extended labor agreement at rival LTL operator YRC Worldwide in 2015. ABF is suing the Teamsters over concessions granted to YRC Worldwide.
The ABF talks are important to U.S. and global shippers. ABF, a $1.7 billion carrier, is the third-largest unionized trucker, following YRC Freight and UPS Freight, and the sixth-largest LTL carrier in the U.S., according to S.J. Consulting Group.
The Fort Smith, Ark.-based carrier has been expanding from its roots in the domestic freight market to become a more global company, offering expedited less-than-than containerload service and opening offices across Asia.
The company had a 5.5 percent share of the LTL freight market in 2011, the Pittsburgh-based research firm said. In 2011, ABF increased revenue 15.1 percent and reported a $4.7 million profit, returning to the black after two years of losses.
Profits were harder to gain in 2012. ABF reported a $8.4 million profit in the third quarter, compared with $17.7 million in the 2011 third quarter. The LTL trucker had a $7.7 million second quarter profit and $22 million first quarter loss.
Tonnage decreased over the course of the year, falling 10.6 percent per day in the first quarter, 6.3 percent in the second quarter and a more modest 1.2 percent year-over-year in the third quarter. Total revenue for the three quarters combined dropped 0.5 percent to $1.3 billion.
The company sits down with the Teamsters at a time when union activism and unrest are on the rise, especially at U.S. ports on the East Coast. The Teamsters are also negotiating a new contract with UPS, the largest Teamsters employer, and its LTL subsidiary, UPS Freight.
Contact William B. Cassidy at wcassidy@joc.com and follow him at twitter.com/wbcassidy_joc.