Last year's drought in the Midwest, the worst since 1956, slowed U.S. agricultural exports, but the farm sector in 2012 still was on pace to set a second consecutive record in terms of total value of exports.
When final numbers are in, the U.S. Department of Agriculture expects 2012 exports to exceed the record $137 billion set in 2011, as higher prices offset lower volumes in key commodities such as corn and soybeans.
The outlook for agricultural exports looks even brighter in the years ahead. William Wilson, an economist at North Dakota State University, said he is bullish on agricultural exports because global demand is projected to exceed supply for the next eight to 10 years, at least.
The outlook for container shipping companies is equally bright. Although only about 10 percent of U.S. grain exports, for example, move in containers, one of the fastest growing sectors is shipment of identity-preserved and specialty grains for human consumption, and feed grains for animals and poultry. Those commodities move almost exclusively in containers, said Bruce Abbe, executive director of the Midwest Shippers Association.
Higher-value specialty products such as fruits, nuts, lentils and meat also are shipped in containers, and the global appetite for those products is surging amid strong demand from growing middle classes in Asia and Latin America.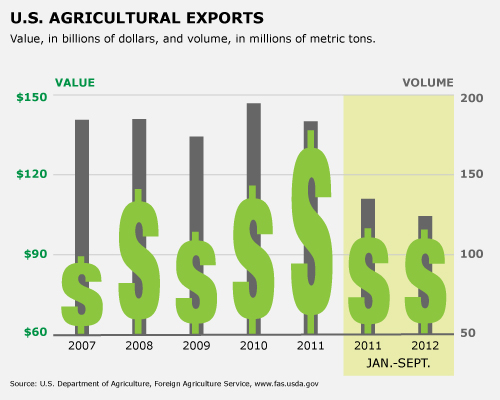 As standards of living increase in those regions, the consumption of meat products also will increase, and that means rising prices. That would typically spur buying countries to see out other, less expensive options, but demand is such that their options are limited. Although the drought resulted in higher prices for feed grains and meat, exports of red meat products in 2012 were on pace to exceed 2011's record $11.5 billion, said Philip Seng, president and CEO of the U.S. Meat Export Federation.
Overseas consumers last year paid more for high-quality U.S. beef and pork because they could afford it, so even though beef exports were running about 7 percent below 2011 volumes and pork export volumes were only slightly higher than in 2011, the total value of exports set a record.
See all ARO Maritime-related content.
The volume of U.S. exports of all kinds softened as 2012 progressed because of the European recession and slower economic growth in Asia, especially China. Freight rates, pressured by the weak demand, fell to what carriers said were unsustainable levels. Carriers represented by the Westbound Transpacific Stabilization agreement announced a number of voluntary rate hikes on agricultural products late in the year, but their prospects of holding were uncertain.
But the softening demand meant agricultural exporters, unlike in past years, generally had access to a sufficient supply of marine containers to carry their products. The farm sector struggles with equipment shortages because agricultural exports are generated in rural areas, but inbound containers carrying consumer merchandise move mostly to urban areas.
The potential for growth in agricultural shipments is limited only by the high cost of positioning empty containers to the source of agricultural exports in the heartland. For some products, the solution might be to move farm products by rail in unit trains of hopper cars to seaports on both coasts, where there are usually surpluses of empty containers.
Contact Bill Mongelluzzo at bmongelluzzo@joc.com and follow him at twitter.com/billmongelluzzo.