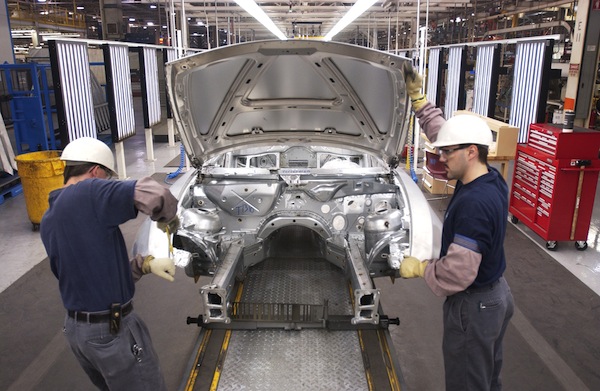 Va-roooom! Auto parts shipments been gaining speed for three years since the Great Recession, and they're poised to accelerate further in 2013.
"The industry's on a nice growth curve," said Jim Gillette, analyst at IHS Automotive. "There are events that could derail things temporarily, but I think we're on a very good roll."
Containerized imports of auto parts have climbed steadily since 2009, when their volume in 20-foot-equivalent units plummeted 22 percent as U.S. vehicle production and sales fell to their lowest levels since the early 1980s.
Last year's third quarter marked the 15th consecutive quarter of sequential gains in containerized imports of auto parts, and the 11th straight quarter of double-digit year-over-year increases, PIERS data show. Parts imports during the first three quarters of 2012 totaled 544,596 TEUs, up 17.3 percent from a year earlier.
The current recovery doesn't appear to be close to running of gas. Demand from U.S. automakers has risen along with recovery in production. Meanwhile, the average age of U.S. vehicles has risen to a record high of more than 11 years, ensuring a strong market for replacement parts.
Auto parts are more durable than they used to be — today's spark plugs are designed to last as long as 100,000 miles — but old cars eventually require maintenance and repair.  Jim O'Sullivan, president of Mazda's North American unit, described vehicles on U.S. highways as a "rolling junkyard," in a recent Wall Street Journal interview.
Automakers are expected to see a temporary bump in sales from Hurricane Sandy. The storm damaged an estimated 230,000 vehicles, 83 percent in New York and New Jersey, according to the National Crime Insurance Bureau. Not all of those vehicles will be replaced with new ones, but increased sales of used cars in the region will indirectly create demand for new vehicles.
U.S. light-vehicle sales were expected to end 2012 at more than 14.3 million units, continuing a strong recovery from the 27-year low of 10.4 million in 2009. Most analysts expect production of at least 15.3 million this year, with a continued rise to 16 million by 2015. That would bring production close to the 16.8 million the U.S. industry averaged from 2000 to 2007.
Increased factory production has lifted auto parts imports. Automakers rely heavily on clusters of nearby suppliers that feed just-in-time assembly lines, but auto production is an international industry with global supply chains.
Click Image to Enlarge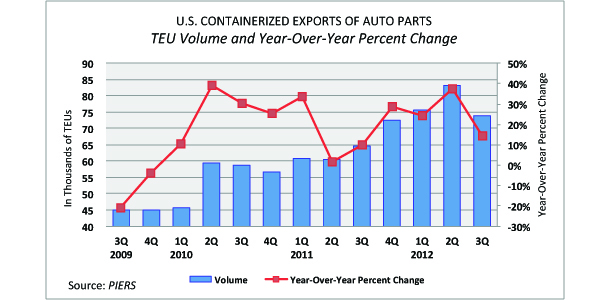 BMW's South Carolina assembly plant, for example, imports engines, transmission and other parts from its German factories. Hyundai's U.S. plant relies on parts from South Korea in addition to North American suppliers. Even U.S.-based automakers import large volumes of parts.
Mercedes Benz/Daimler Trucks, BMW, Toyota, Nissan and Kia were on the JOC's list of the Top 100 U.S. Importers in 2011, along with five tire manufacturers.
Automakers' international supply chains were tested in 2011 by the Japan earthquake and tsunami and by floods in Thailand. Partly to hedge against disruptions, automakers have stepped up production of parts and finished vehicles in Mexico.
"Ten or 12 years ago, common wisdom was that Mexico was going to lose out to China in parts production," Gillette said. "For a while, Mexico did slow, but now it is booming." Mexican production feeds export markets and its own auto production, most of which is exported.
"We're seeing a solid increase of fully built-out vehicles from North America," Gillette said. IHS Automotive forecasts that vehicle exports from the U.S., Canada and Mexico will total 1.4 million units in 2014, double their level of 2007.
Click Image to Enlarge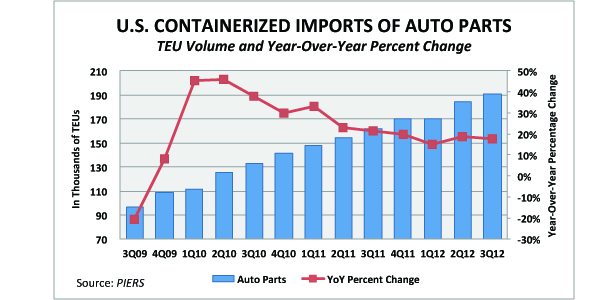 Exports also are growing. Through the first three quarters of 2012, containerized exports of auto parts via U.S. ports totaled 233,311 TEUs, up 25.4 percent from a year earlier. The nine-month total for 2012 was only 26,029 TEUs below the full-year total for 2011.
U.S. parts producers that survived the recession emerged leaner and more competitive.  "We now have a truly competitive auto industry in North America. Automakers and their suppliers have learned a tremendous amount in the last few years," Gillette said.
"There are some powerful forces right now that are really helping the auto industry in the U.S. and North America in general," he said. "It would take some pretty powerful forces to blow it out."
Contact Joseph Bonney at jbonney@joc.com and follow him on Twitter at @JosephBonney.