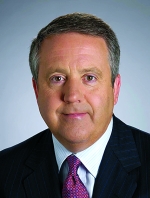 Legitimate concerns about the economy are overshadowing some positive trends we expect to continue in 2013. Those trends involve the U.S. supply chain and how shippers of all kinds of products continue to diversify and integrate their transportation options.
In the oil industry, for example, producers traditionally used pipelines to move domestic crude oil. But record oil production from the Bakken and other shale formations has developed so quickly that there is a shortage of pipeline capacity. So the oil industry is using railroads to ship inbound production materials and outbound crude oil.
The result is rail has developed into a new alternative, in addition to pipelines, because it is more flexible and can deliver oil faster to markets paying better prices.
A similar transformation is occurring in the domestic trucking industry. Trucks that had moved exclusively on the highway are being converted to intermodal shipment by rail between major cities, while trucks continue to provide distribution.
Freight shippers are integrating how they use transportation to improve the efficiency of their own supply chains while reducing fuel consumption, emissions and highway congestion. And the capital investments these companies are making are typically focused on developing new multimodal facilities.
Freight railroads are pouring record amounts of private capital into their rail networks to meet shipper needs, but public investment in public infrastructure has fallen behind, and there are growing capacity constraints on the highways.
That's why public policy needs to catch up. We need a national freight policy that takes the same integrated view of infrastructure as the marketplace and invests accordingly. Combine that with permitting reform to help build this infrastructure faster, and this trend will enhance the supply chain in ways that not only will meet coming transportation demand, but also support the job creation that comes with it.