A global recession and the subsequent stop-and-start economic recovery didn't stop the major U.S. and Canadian railroads from flexing their pricing power. Even as volume growth waned, resistant pricing, along with improved efficiencies gained through billions of dollars in network investments, kept the industry an investor darling.
But with the U.S. teetering on the brink of another major economic slowdown, largely because federal fiscal woes, can the railroads drive pricing, particularly for intermodal, as aggressively? Industry opinion is just as mixed as the forecasts about whether Congress and President Obama will blunt the sequestration and raise the debt ceiling.
"I think intermodal pricing is going to have a bit of a problem," said Ron Sucik, president of RSE Consulting. The railroads "are going to have to be more competitive with pricing. I think the recovery has slowed down to a point and the growth isn't there."
Intermodal volume in the third quarter rose nearly 3.2 percent year-over-year, compared with a 5.2 percent year-over-year gain in the second quarter, according to the Intermodal Association of North America. International intermodal traffic inched up only 0.9 percent in the same period, while domestic volume jumped 5.8 percent. Domestic intermodal growth decelerated slightly from the second quarter's 6.7 percent year-over-year gain.
That's likely the result of the slowing U.S. economy, particularly manufacturing growth, a main driver of domestic loads. Uncertainty about the fiscal cliff won't likely change factories' course, and the European Union recession will dampen domestic demand. Like the broader U.S. economy, the manufacturing sector appears to be in a holding pattern. Durable goods production was flat in October, after a 9.2 percent hike in September and a 13.1 percent plunge in August, according to the U.S. Census Bureau.
See all ARO Rail & Intermodal-related content.
"Clearly, business decision-makers are engaging in just enough capital spending to keep their enterprises going," Cliff Waldman, senior economist for the Manufacturers Alliance for Productivity and Innovation, wrote in a November report. "In a shaky global economy and a highly uncertain U.S. policy environment, there is not going to be much entrepreneurial business expansion of the type that would result from, and reinforce, a strong economic expansion."
FTR Associates Senior Consultant Larry Gross doesn't expect any "dramatic reversals in intermodal pricing" in 2013. He said intermodal pricing will stay flat in the early part of the year and then rise in the second half of 2013, as federal regulation tightens capacity, emboldening trucking companies to raise their rates. Gross expects intermodal pricing gains to mirror that of 2012, with an increase in the 3 to 4 percent range.
FTR Associates forecast intermodal growth of 3.7 percent in 2013, compared with 4.6 percent growth in 2012. Domestic and international intermodal volume will slacken, with the former slipping to 4.5 percent expansion, a 1 percentage point decrease from 2012, according to FTR, a Nashville, Ind.-based research firm. International traffic gains are expected to decelerate to 2.8 percent from 2.9 percent in 2012. U.S. carloads will see some growth, albeit through a weak year-over-year comparison, rising 2 percent in 2013, FTR predicts.
Railroad pricing, including for carload business, will increase about 5 percent if intermodal business performs well and about 3.5 percent if its growth is lackluster, said Tony Hatch, senior transportation for ABH Consulting.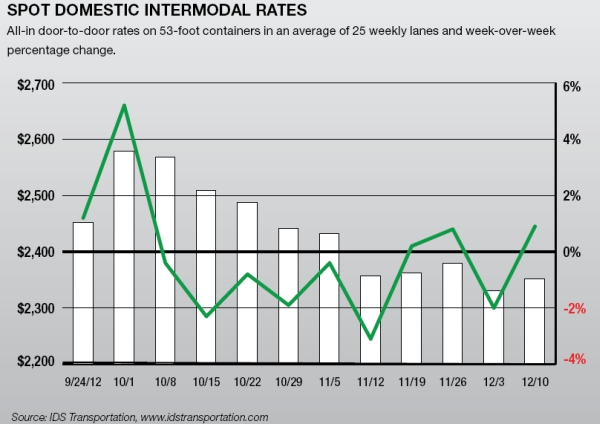 Intermodal pricing for 2013 is difficult to predict, but low end-of-2012 spot rates don't suggest shippers should expect aggressive pricing this year, said Rick LaGore, executive vice president of Plainfield, Ind.-based logistics provider IDS Transportation. Intermodal spot prices are historically low after the peak season, but the most recent buildup of holiday inventory was more of "faux peak season," lasting only a few weeks, he said.
The industry hasn't seen predicted spikes in truck pricing caused by new safety rules, and intermodal pricing has been more competitive as a result. LaGore has been advising potential clients to wait until early this month to sign intermodal contracts because he expects the carriers to price rates more competitively. "There are plenty of signs that the economy isn't taking off, and since the truck (pricing) factors haven't taken off, I get the feeling they will take the foot off the pricing gas," he said.
It's unclear whether the carriers themselves are easing off on intermodal pricing gains, a move that would be the antithesis to their historical resilience, or whether intermediaries such as J.B. Hunt Transportation Services and Hub Group are softening pricing hikes. In a research note on Hub Group, BB&T analyst Kevin Sterling predicted intermodal pricing would rise 2 percent this year at the most. "If IMCs look for large price hikes, we think shippers will use the soft truck market as leverage and threaten to put freight back on the highway," he wrote.
Intermodal pricing in November rose 1.6 percent from October and 0.4 percent year-over-year, according to Cass Information Systems' intermodal line-haul index. The uptick was largely a result of Hurricane Sandy, according to Avondale Partners. The financial investment firm Avondale Partners expects rates to stay "subdued" in the intermediate term because of the large amount of capacity entering the market and "aggressive pricing by carriers focused on ramping up their intermodal businesses.
"We believe that the volatile fuel market will remain the key driver behind intermittent swings in price in the near term," Avondale wrote in an October report.
Intermodal pricing will continue to become more important to railroads' bottom lines, particularly as coal and grain traffic remain sluggish. The major railroads are expected to deliver strong profit in the fourth quarter, but the earnings growth likely will pale in comparison to previous years. Total profit growth at the five U.S.-based Class I railroads — BNSF Railway, CSX Transportation, Kansas City Southern Railway, Norfolk Southern Railway and Union Pacific Railroad — rose 5 percent year-over-year in the third quarter. But profit growth would have slipped to 1.6 percent if BNSF hadn't increased its profit 22 percent to $937 million, in large part because of its booming domestic energy business.
Fortunately for the railroads, they can expect double-digit growth in the shipments of motor vehicles and equipment, Hatch said. The domestic energy production boom shows no sign of letting up, either. Major intermodal network improvements made in 2012 will provide even more benefits this year, and the railroads show no sign of letting up on the pace of their investments. So when truck capacity tightens, the railroads will be ready with a host of new offerings.
Faster trains and less terminal dwell times, coupled with a steady overall rise in fuel prices, will help keep loads on the tracks instead of returning to the highway — even when intermodal pricing gets aggressive.  
Contact Mark Szakonyi at mszakonyi@joc.com and follow him on Twitter at twitter.com/szakonyi_joc.