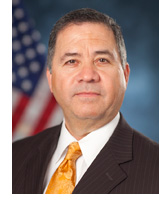 This coming year we will continue to see substantive new benefits for the trade community and our economy as a result of the ongoing transformation of U.S. trade facilitation. Government continues to partner with stakeholders to achieve joint solutions that reduce the length and cost of transactions, enhance coordination and modernize processes through technology, while simultaneously increasing security.
To realize these advancements, we are implementing wide-ranging initiatives, from improving interagency coordination through our One U.S. Government at the Border plan to making the promise of an electronic interface via the Automated Commercial Environment a reality. The formula remains:
aster, safer, more cost-effective and increasingly collaborative.
I believe the major accomplishment of 2013 will be the ongoing transition to industry-specific Centers of Excellence and Expertise. Four of these centers were launched last year: electronics; pharmaceuticals; automotive and aerospace; and petroleum, natural gas and minerals, and already are building our capacity to identify fraudulent shipments and direct successful enforcement actions. But more importantly, these centers provide the trade community with a single point of contact to ask questions and resolve issues. This one-stop processing can directly impact the trade community's cost of doing business by delivering greater consistency and predictability and providing tailored support to participating importers.
During 2013 new centers will be launched for:
Agriculture and prepared products.
Apparel, footwear and textiles.
Base metals.
Consumer products and mass merchandising.
Industrial and manufacturing materials.
Machinery.
These 10 centers represent our growing partnership with the trade community and our strong commitment to expediting the flow of goods into the United States. I am convinced the coming year will see smarter, more efficient U.S. borders that will enhance our economic and homeland security, spur job growth, and provide better protections and opportunities for consumers and manufacturers.
Visit U.S. Customs and Border Protection online.