Historically, the commercial real estate sector has been a lagging indicator of economic performance, as changes in corporate occupancy needs take time to catch up to headcount reductions and expansion. The exception to this general rule is the industrial segment, including warehouses and distribution centers, where the volume of trade drives occupancy needs.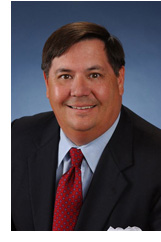 The industrial distribution sector often shows the coming changes to the global economic landscape before other patterns come to light. When global trade winds shift, distribution networks expand or buying patterns are evolving, warehouses and DCs hold the first clues.
The U.S. has 11.9 billion square feet of industrial space in its major markets, of which approximately 91.1 percent is occupied. The national vacancy rate has declined from its 2010 peak of 10.6 percent to a respectable 8.9 percent, a level not seen since early 2009.
With little new speculative construction coming to the market, high-quality industrial space is becoming scarce. Given that other real estate asset classes — office and retail, for example — saw higher peak vacancies and have been slower to recover, the health of the industrial market not only demonstrates the sector's resiliency but also reveals an optimistic outlook for overall economic recovery.
Demand for big-box facilities — those greater than 400,000 square feet — dominated the industrial trade headlines last year. As more companies sought modern space offering greater functionality for sophisticated logistics systems, occupancy and rental rates in those buildings increased faster than the overall market. High-end industrial space — typified by high ceilings and sprinkler systems to accommodate leading-edge logistics automation systems — reached 97 percent occupancy in California's Inland Empire and are approaching a similar level in most major logistics hubs.
A politically and economically turbulent environment provided uncertainty in 2012, causing corporations to press pause on their decision-making. Distributors streamlined and consolidated operations and sought other opportunities for greater efficiencies. Overall, rental rates remained near the bottom of the cycle as vacant space was still being absorbed.
Developers in 2012 took a cautious approach to developing new big-box space amid the economic uncertainty and restrictive lending environment. Premium space development is limited mainly to a small number of national and international players, with some exceptions — such as Goodman-Birtcher in the U.S. — with the capital and market expertise to make bold speculative plays in the right places.
The high absorption and low development levels of quality big-box space will have an impact on the market in 2013. Location-sensitive industrial users will need to pay more for high-end space or lease in buildings with less-than-optimal operational efficiency potential.
E-Commerce Evolution
These realities of supply and demand aren't new to the industrial real estate sector, but the current market cycle also has a game-changing element: e-commerce. One-third of all demand for big-box space in the U.S. in 2012 was tied to multi-channel retailers, or "e-tailers," and e-commerce is growing at three times the rate of traditional retail.
This structural shift in consumer buying patterns is disrupting the fundamentals of the retail sector, which is adapting to the shift from bricks-and-mortar to bricks-and-clicks.
The trend also reverberates in the prime logistics and distribution sector, which reaps the benefits of fervent demand as retailers reshape distribution networks to meet their e-commerce fulfillment programs. Retailers are tapping multiple channels to sell their merchandise and are increasing online sales operations rather than increasing their real estate footprints, and this shift requires a new distribution model. 
E-tailers need spacious buildings with 36-foot clear ceiling heights to accommodate high-end racking systems. New-generation industrial is up to five times more labor-intensive than traditional retail distribution facilities, requiring more parking, mezzanine build-outs, increased building automation and other features that are difficult or impossible to retrofit in older buildings.
See all ARO Logistics-related content.
Traditional retailers also are tightening their delivery models to meet competition from e-tailers. This battle can be seen among the retail industry giants. Wal-Mart, for example, is experimenting with same-day delivery from its retail outlets, in an apparent response to Amazon's new strategy of building massive distribution centers near major cities at the same time it capitulates on collecting sales taxes. 
With consumers expecting at least the option for next-day delivery and the added labor intensity of the facilities, locating near major population centers is a must. Approximately 35 percent of retail-related industrial demand is in the Northeast, particularly in eastern Pennsylvania and central New Jersey, followed by about 27 percent in Southern California, markets such as Los Angeles and the Inland Empire.
Although those figures include traditional as well as e-commerce retail demand, most new facilities are built with an eye toward how e-commerce affects a company's entire distribution network strategy. With e-commerce expected to grow 11.5 percent and m-commerce (mobile) by a staggering 48 percent, demand for these highly specialized retail DCs will continue to increase in 2013 and beyond.
Domestic Supply Chain Shifts
So, with the pressure to find big-box space, when will new development increase? The answer is soon. In fact, the Inland Empire is leading the way with 9.9 million square feet under construction followed by plans for another 11 million square feet this year. Philadelphia, at 8.3 million square feet, isn't far behind. But it's not just a question of size that affects efficiency; the configuration of space matters at least as much. During the downturn and continuing today, distributors have kept a sharp eye on supply chain costs. Each dollar saved, after all, goes directly to the bottom line.
Consolidation into modern space continues as distributors endeavor to optimize their real estate, labor and transportation costs. But again, that space is becoming scarce, a reality that will drive growing build-to-suit and speculative development activity across even more markets next year.
Other areas we have marked for positive demand in 2013 are markets that have profited from Class I rail investment that provides intermodal options for shippers. Intermodal is the fastest-growing transportation mode. Its appeal is driven by fuel and carbon efficiency as well as capacity constraints in the trucking industry that look to worsen as new regulations take effect this year.
Norfolk Southern's Crescent Corridor expansion, which stretches from New Orleans to New York, will impact the industrial real estate markets in Memphis, Tenn.; Atlanta; Charlotte, N.C.; Harrisburg, Pa., and northern New Jersey.
CSX's National Gateway, which is being developed to bring double-stack containers inland from Hampton Roads and Baltimore to the logistics hubs in Pennsylvania and Ohio, also will have a noticeable impact on industrial space demand as progress unfolds. 
Global Trade Winds
As the supply chain and logistics landscape transitions to fit the economic reality in the U.S., trade developments involving our neighbors to the south also will affect some of our country's key logistics hubs. Rising wages abroad, particularly in the Far East, and currency fluctuations are pushing the production of goods closer to their target consumers.
This means some manufacturing is returning to the U.S, but more is moving to Central and South America. Yet as goods are transported through our borders, many will take new transit routes, through increasingly complex port networks or even overland through the Southwest, which will affect the demand for industrial real estate differently in different regions. As a result, we expect to see an uptick in logistics space demand in markets such as Dallas and Kansas City.
Another trade shift includes the rise of U.S. exports, particularly of agricultural goods. There are multiple real estate implications as the logistics industry and exporters focus on hubs with immediate access to empty import containers, and to distribution hubs for shipment by rail to deep-water ports. The trend toward establishing and expanding inland ports will continue, and there are major opportunities for private-sector development and investment to support the country's growing export trade.
Real Estate: The Critical Link
Compared with other product types, warehouse and distribution properties are less capital-intensive to develop, have not historically experienced the highs and lows in rental rates and values, and remain a relatively stable and predictable asset class.
With residential property prices staging a comeback, this bodes well for the overall economy and will have a knock-on effect for the industrial property sector. We are therefore optimistic about 2013, particularly the latter half of the year when political and fiscal uncertainty is, hopefully, ironed out.
We expect small to midsize industrial users who have been dormant in most markets to contribute to new demand in 2013. Market vacancy rates will continue to decrease at a measured rate, as new speculative and build-to-suit development slowly but steadily accelerates. Tight financing conditions and slow rental growth, however, will keep development levels below par, and prime quality space will remain at a premium.
For distribution space users, the lessons of the industrial real estate market are twofold. First, the market's recovery in 2012 indicates companies are approaching the coming year with optimism in regard to economic growth. Second — and more important to decision-makers — the fundamentals of supply and demand will make it increasingly difficult to obtain modern distribution space in key markets.
In a world driven by distribution that moves as fast as e-commerce, logistics managers who are caught unaware may find that real estate has become the weak link in their supply chain.  
Craig Meyer is international director and head of Jones Lang LaSalle's industrial practice in the Americas. Contact him at craig.meyer@am.jll.com.