The Journal of Commerce For-Hire Trucking Employment Index rose 0.3 percentage points to 94.2 in December 2012, its highest reading since October 2008, as U.S. employers created 155,000 jobs, about 4,200 of them in trucking.
The increase from November was the third straight monthly gain for the index, which dropped slightly in September. The index was 3.1 percentage points higher than in December 2011 and 8.9 points above its 85.3 low point in March 2010.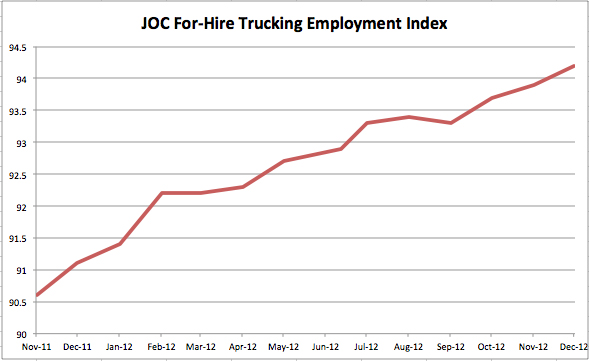 The JOC index shows the for-hire trucking sector — less-than-truckload and truckload carriers — is slowly rebuilding its workforce, though employment still is substantially lower than at its peak before the 2007-2009 recession.
The JOC index shows for-hire trucking employment was 5.8 percent below its peak in early 2007 last month, after climbing steadily through much of 2012. The index is based on employment data released monthly by the U.S. Bureau of Labor Statistics.
The seasonally adjusted data showed head counts at the for-hire carriers tracked by the BLS increased 3.4 percent year-over-year in December, after increasing 3.6 percent in November and 3.7 percent from the prior year in October.
Trucking employment is up 10.1 percent from March 2010, according to the BLS data, which show a 15.1 percent drop from January 2007 through that month, a period that included the worst of the recession and the early recovery.
Contact William B. Cassidy at wcassidy@joc.com and follow him at www.twitter.com/wbcassidy_joc