Backhaul West Coast to Asia rates inched up this week while backhaul rates from Europe to Asia slipped, neither showing much in the way of volatility.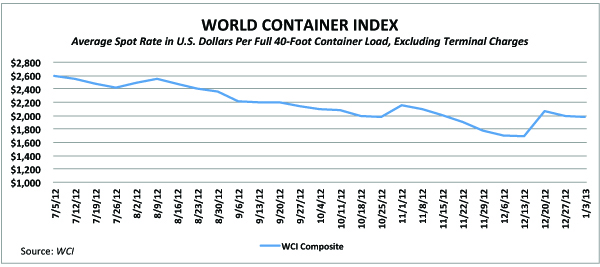 The World Container Index Los Angeles-Shanghai rate this week stood at $874 per 40-foot container, up from $841 last week. The rate has fluctuated with low volatility between $852 and $874 since August.
The WCI Rotterdam-Shanghai rate stood at $936 per 40-foot container this week, down from $964 last week. The rate has drifted 8.5 percent lower since early October.
Trans-Atlantic rates ticked upward in both directions this week, according to the WCI, with Rotterdam-New York rates moving up 2.7 percent from $2,379 to $2,443 per FEU, and New York-Rotterdam rates increasing 2.2 percent from $1,899 to $1,940 per FEU, according to the WCI.