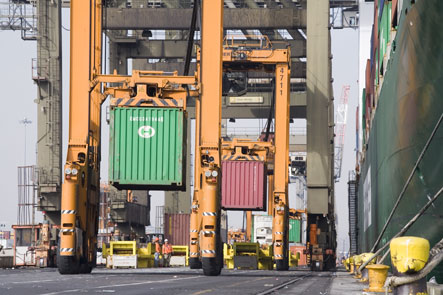 The International Longshoremen's Association and its employers are shifting their attention to work rules now that a deal on container royalties has averted an East and Gulf Coast dockworker strike.
The ILA and United States Maritime Alliance agreed last week to extend their coastwide master contract and supplementary local agreements through Feb. 6. The union had threatened to strike when an earlier 90-day extension expired Saturday.
Cargo interests were relieved by the extension. Many of them implemented contingency plans in advance of the originally scheduled contract expiration last Sept. 30, and had to do it again as the ILA renewed its strike threat last month.
Truck traffic was heavy at container ports from Boston to Houston last week as shippers and carriers rushed to clear cargo and equipment in advance of the threatened strike. Several terminals had planned to stay open Saturday, normally a dark day, but canceled those plans after the extension was announced.
"While some significant issues remain in contention, I am cautiously optimistic that they can be resolved in the upcoming 30-day extension period," said George H. Cohen, director of the Federal Mediation and Conciliation Service, which is overseeing the negotiations.
Cohen described last week's agreement on royalties as "a major positive step toward achieving an overall collective bargaining agreement" between the ILA and USMX. The agreement is contingent on successful negotiation of the rest of the contract.
Complete Coverage of ILA-USMX Negotiations
Neither the mediator nor bargainers would discuss substance of the agreement, which is understood to represent a framework that left some details to be worked out later. In a message on the union's Web side, ILA President Harold Daggett said the union "made major gains on the container royalty issue that will protect our ILA members."
 Carriers have paid royalties based on the weight of containerized shipments since the 1960s under a program created to compensate ILA members for job losses to containerization. Carriers' costs and workers' annual royalty checks have risen nearly 50 percent since caps on contributions and payouts were lifted under a 2009 agreement.
Disagreement over royalties had upstaged bargaining on the equally contentious issue of work rules. Most of those rules are in supplementary local agreements such as the one between the ILA and the New York Shipping Association.
Employers have said they are determined to use the current negotiations to address work rules and practices, some dating back decades, that hinder productivity and raise costs, especially at the Port of New York and New Jersey.
In New York-New Jersey, those work rules include extensive relief staffing that requires 15 or 16 workers to be hired when only nine or 10 are working at a time. Other issues in New York-New Jersey and other ports include minimum hours and starting times.
NYSA President Joseph Curto said that with the extension to Feb. 6, the NYSA was "looking forward to getting to the table to begin serious bargaining and to start the process of change."
Contact Joseph Bonney at jbonney@joc.com and follow him on Twitter at @JosephBonney.