Carriers ended the year managing to hold on to rate increases implemented in the Asia-Europe and trans-Pacific markets earlier in December, according to Friday's release of the Shanghai Containerized Freight Index data. Although the mid-December increases began eroding almost immediately, this week the erosion was minimal, with the year ending "with an uncharasteristic whimper," according to Clarksons. The "Christmas holidays have had a dampening effect on the rate erosion," said Ben Gibson of Clarksons.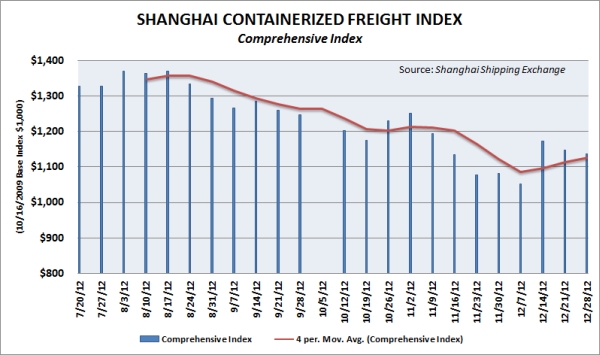 In the trans-Pacific eastbound trade to the West Coast, spot rates slipped $8 to $2,223 per 40-foot container. After declining 26 percent from late September through early December, trans-Pacific eastbound rates jumped nine percent on Dec. 14 and then gained an additional 1.5 percent on Dec. 21 prior to edging downward this week. Trans-Pacific rates to the East Coast also declined all fall, slipping 22 percent from mid-September through early December before gaining roughly 10 percent in mid-December on the back of a partially implemented mid-December rate increase. East Coast rates ended the year slipping roughly 1 percent in the final week of the year.
Shanghai-North Europe rates gained 35 percent in mid-December, lost 8.4 percent the following week and ended the year with a 1.5 percent loss, a positive result for the carriers who have struggled to hold on to implemented general rate increases in subsequent weeks. In the Shanghai-Mediterranean market, after soaring 66 percent in a mid-December GRI, the spot rate slipped 5.8 percent last week and 2.3 percent this week, an erosion but not wholesale giveback seen after earlier GRIs this year.
As Clarksons said: "Despite the holiday effect, January should start with a bang as carriers look to acheive rate increases from (Jan.) 15th. Their announced programme of void sailings is hoped to be enough to create tightness in the market."