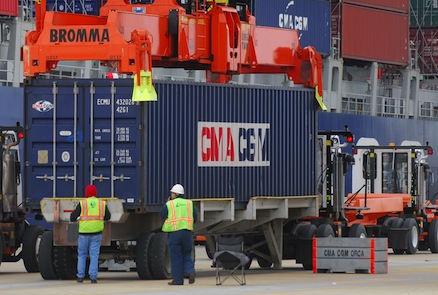 With contract negotiations at an impasse, International Longshoremen's Association President Harold Daggett has directed ILA locals to prepare for a Dec. 30 strike at East and Gulf Coast ports.
Daggett sent a letter to locals advising them that "negotiations are not progressing well and it is expected that there will be a coastwise strike beginning at 12:01 a.m. on Sunday, Dec. 30."
The ILA and United States Maritime Alliance broke off negotiations Tuesday after failing to agree to extend the contract past its Dec. 29 expiration. The contract, originally set to expire Sept. 30, has already been extended once.
Daggett's letter to ILA locals said that if the union strikes, it will not handle containerized cargo, but will handle unfrozen perishable commodities, containerized military cargo excluding household goods, containerized mail, passenger ships, and noncontainerized cargo and automobiles.
The letter did not specify how the ILA would deal with containerized shipments of perishable cargoes. Many of those shipments move on ships of carriers that use ILA labor under local contracts but are not signatories to the ILA-USMX master contract.
Although the ILA has pledged to continue to handle containerized mail and military cargoes, many of those shipments are carried on ships of major container lines that are master-contract signatories and would be affected by a strike.
The letter's to-do list also directed union locals to establish strike committees, secure ILA lawyers' approval of picket-sign language, and avoid violence on picket lines.
The likelihood of the ILA's first coastwide strike in 35 years increased after Tuesday's failure by negotiators to agree on an extension.
Complete coverage of ILA-USMX negotiations
Talks broke down after USMX rejected the ILA's demand that an extension be accompanied by a promise to maintain the status quo on carrier-paid container royalties that provide annual payments to dockworkers.
Royalties have emerged as a top issue in negotiations. USMX has proposed to cap royalties at current levels, use the excess for other ILA benefits, and eliminate payments to new hires while guaranteeing them to current workers for 25 years.
The ILA objects to any change in royalties. The union views them as continuing compensation for jobs lost during the shift to containerization, and as an important source of income for workers and for the union.
Royalties were established in the 1960s. Last year they provided eligible workers with checks averaging $15,500, at a cost of $211 million to carriers. Since caps on royalty payments were lifted in 2009, carriers' costs have risen by a total of $180 million.
Besides changes to royalties, employers want changes that would provide negotiators with more flexibility to change port-specific work rules and pay practices in local contracts. Many of those changes are aimed at the high-cost Port of New York and New Jersey, where employers are seeking to address staffing levels and other practices.
Contact Joseph Bonney at jbonney@joc.com and follow him at twitter.com/JosephBonney.