The Drewry weekly Hong Kong-to-Los Angeles spot rate benchmark inched up this week, indicating that carriers' plans to implement a $400 general rate increase on Dec. 15 were not successful, even as the lines renew their push for increases as of mid-January. The mid-December increase had been postponed from Dec. 1 because of market weakness, which is evidently continuing even as rates shot up last week based on mid-December GRIs in the Asia-Europe market. 
The Hong Kong-Los Angeles rates stood at $2,213 per 40-foot container this week, up 2.1 percent or $45 from $2,168 last week. Carriers this week showed at least a resolve to continue pushing for higher rates, with member lines of the Transpacific Stabilization Agreement announcing plans for a $600 per 40-foot container increase in dry cargo rates from Asia to the West Coast and $800 per FEU to all other destinations, effective Jan. 15. The increase coincides with a previously announced TSA increase for refrigerated shipments.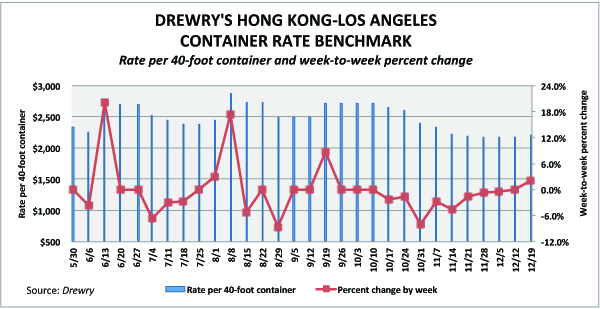 "This is a make or break period for trans-Pacific carriers," said TSA Executive Administrator Brian M. Conrad said. "They cannot afford another year in which expiring contracts and seasonally weak demand erode rate levels, which are then extended for 12 months in the next year's contracts. Lines see breaking this cycle as key to their viability going forward."
The Drewry rate was the first increase since Sept. 12 and shows that while the carriers may not have come close yet to achieving desired increases, at least they have succeeded in halting the erosion that has sent the Drewry index down roughly 18 percent since early September.