Asia-Europe spot rates soared this week, and trans-Pacific rates climbed but not by as much, as carriers rallied to show discipline in the face of continuing weak volumes and supply-demand conditions, according to the Friday release of new Shanghai Container Freight Index figures.
Shanghai-North Europe rates climbed $351 to $1,350 per 20-foot container, a 35 percent increase. Rates from Shanghai to Mediterranean ports were up 66 percent this week or $477 per TEU to $1,199.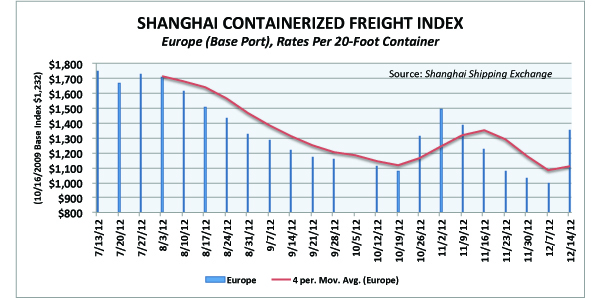 "It seems as though we are seeing, once again, the effect of disciplined pricing on the spot market," said Clarkson's in a commentary.
The increases continued to show a pattern in which carriers are able to rally around announced rate increases; carriers had announced a $600-per -EU general rate increase in the Asia-Europe trades as of Dec. 15 and the increases this week, coming in advance of that date, suggested carriers were determined to see it implemented.
In the eastbound trans-Pacific, carriers are planning a $400 per 40-foot container increase as of Dec. 15 — postponed from Dec. 1 because of market weakness — and while the trans-Pacific increases this week were not as high as what carriers achieved in Asia-Europe, they still showed the effects of the impending increases. Shanghai-to-West Coast rates climbed 9 percent to $2,199 per 40-foot container, while rates to the U.S. East Coast rose 10 percent to $3,380 per FEU. 
Rate increases in the spot rate in recent months coinciding with announced GRI have tended to be undercut and eventually wiped out in subsequent weeks. As Clarkson's said: "The question will now come — will it last and how far will it spread?"