Head-haul rates from Shanghai to major markets continued to drop this week but at a slower rate of decline, according to the new index numbers of the Shanghai Container Freight Index released on Friday.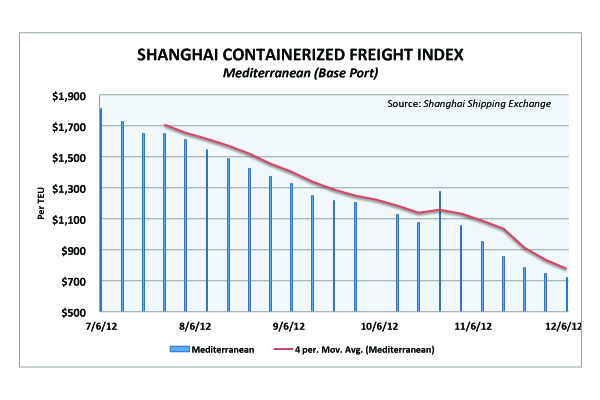 Rates from Shanghai to North Europe slipped 2.8 percent to $999 per 20-foot-equivalent container, or TEU. That was the slowest rate of decline in a five-week erosion since early November that saw the North Europe rates plunge 32 percent.
Rates from Shanghai to Mediterranean ports dropped just 3.2 percent to $722 per TEU, also the slowest pace of decline since late October when the Med index stood at $1,273 before plunging 43 percent.
Rates to the U.S. West Coast slipped marginally, slowing 1.3 percent to $2,019 per 40-foot container, or FEU. The West Coast rates have also been declining in recent weeks but at a more gradual pace than to Europe. The West Coast rates have dropped 26 percent in a steady decline since late September.
Rates to the U.S. East Coast slid 0.9 percent this week to $3,071 per FEU. East Coast rates as tracked by the SCFI have declined 22 percent since mid-September.
Clarksons said the slowing rate of decline on the main routes tracked by the SCFI points to higher rates in weeks ahead as new general rate increases are implemented.
"This week's index is being regarded as a signpost of GRI success to come," Clarksons said in a market comment. "The fact that the four main routes have decelerated even further … is a positive indication that the spot market is improving and could provide a platform to see rates go up next week."