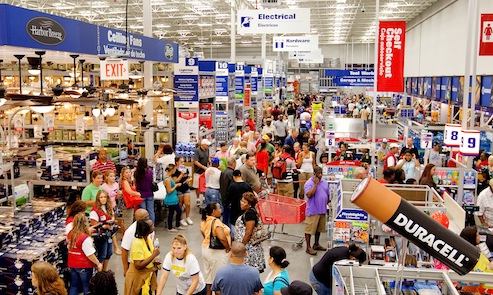 Lowe's plans over the next few years to expand in Canada and Mexico and centralize its fulfillment operations, allowing the retail giant to cut transportation costs and speed e-commerce delivery.
The opening of a central dispatch office is aimed at lowering fuel costs, improving truck fleet utilization, and gaining faster and more efficient routing. The bold changes to the supply chain come roughly a year after the home improvement retailer closed 20 underperforming U.S. stores and ramped up online sales operations.
Lowe's plans open six more stores in Canada by early February, bringing its total store count in the country to 35. CEO Robert Niblock told investors on Wednesday the company plans to add at least another 65 stores "of varying sizes and formats" in the coming years, according to a Seeking Alpha transcript. The company maintained its fiscal 2012 profit and revenue forecast of $50.2 billion in business and earnings of $1.73 per share. The second-largest U.S home improvement chain saw profit jump 76 percent year-over-year to $396 million in its fiscal third quarter, as revenue inched up 2 percent to $12 billion.
"We like the market homeownership rate (in Canada) of approximately 70 percent and its well-developed distribution infrastructure, and our goal is to grow to a No. 1 or No. 2 position in total revenue in order to better leverage fixed cost of management, information systems and distribution," he said.
The North Carolina-based company withdrew its $1.8 billion proposal to buy Rona, a Canadian home improvement retailer, this year, after the acquisition drew political ire from Ottawa, according to reports. Lowe's is attracted to Canada's roughly $40 billion "stable home improvement market," and sees potential as the broader market consolidates, Niblock said. The company in October launched Lowes.ca, a Web site targeting the Canadian market with more than 30,000 products available for home delivery and pickup at its stores.
Lowe's also plans to expand its network Mexican stores. Lowe's, which has five stores south of the border, estimates the country's home improvement market of $25 billion will grow as the new housing and home ownership rate rises above the existing 70 percent.
The shift to centralized dispatching will allow customers "to schedule delivery appointments online with shorter and more accurate delivery windows and up-to-date status visibility," Chief Operating Officer Rick Damron said. "We are currently testing this concept in three markets today, utilizing both Lowe's, as well as third-party fleet."
Since beginning flexible fulfillment in fall 2011, the company's U.S. e-commerce arm, Lowes.com, can reach 90 percent of the nation's markets within a day through more than 50 fulfillment sites across the country. The company has doubled its online catalog to 450,000 items in the last year. The company's acquisition of ATG stores, an online-focused home improvement store, in late 2011 also likely helped Lowe's increase e-commerce business.
Contact Mark Szakonyi at mszakonyi@joc.com and follow him at twitter.com/szakonyi_joc.