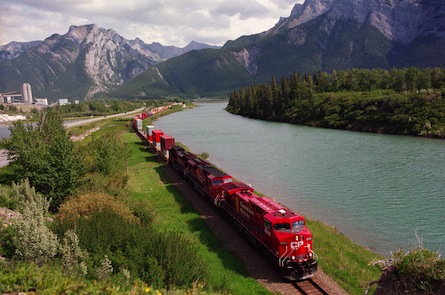 Canadian Pacific Railway's announcement this week of plans to trim its network and cut a quarter of its work force over the next four years is just the beginning of the changes coming down the tracks for the railroad.
By simplifying the network, CP President and CEO E. Hunter Harrison is laying the groundwork for more precision railroading, said Tom Finkbiner, senior chairman for the Intermodal Transportation Institute. For CP intermodal shippers, that means less flexibility on scheduling but also more competitive services and pricing.
The bold changes come roughly five months after Harrison took the helm of the least profitable major railroad in North America, following activist investor William Ackman's wrestling of control of the company through a fierce proxy fight. Harrison, who is widely credited as making Canadian National Railway the most profitable railroad in North America, said the changes would bring CP's operating ratio to the mid-60s in 2016. CP, which has steadily lost market share to archrival CN, had an operating ratio of 74.1 percent in the third and most recent quarter.
Harrison said the changes would boost revenue 4 to 7 percent in 2016 from this year's base and add cash flow before dividends of up to $1.4 billion. Investors liked what they heard; CP stock rose to an all-time high Wednesday.
"I think that what we've learned over the last 30 years is that to try to make the (railroad) more flexible, you degrade the whole system," Finkbiner said. CP "has some freight commitments that were more difficult to do, and it degraded the whole network."
Harrison is of the school of thought that the railroad offers a product and shippers determine whether that product fits their needs, he said. The other approach is trying to "jiggle the network" for a particular shipper or set of shippers without weakening the entire network. Although former CP head Fred Greene and his team would deny taking the second route, Finkbiner said they made accommodations to customers, eroding general service.
Once his network is where he wants it, Finkbiner expects Harrison to differentiate services available to shippers. Perishables shippers, for instance, could take advantage of expedited service, while consumer product customers could tap standard service.   
"Canada does quite a bit of perishables and (those shippers) need faster transit and that provides higher paying freight," he said. "That adds volume but also yield."
CP intermodal shippers have already seen changes to service under Harrison's reign, as trains now move faster on the lanes connecting Vancouver to Chicago and Toronto.
"They have been well received by the marketplace even though we've taken effectively about 19 hours out the schedule," Harrison, a Memphis, Tenn., native, told investors Tuesday night. "Our on-time performance operation with the trains is significantly better before we took the 19 hours out."
Although the railroad will keep annual capital spending between $1 billion and $1.1 billion, there will be more of a focus on extending siding, allowing trains to move faster and use less equipment. The new siding program is expected to cut more than 14,500, or 4 percent, of crew starts.
Harrison has wasted no time trimming the railroad's network. CP has already closed hump-switching yards in Toronto, Winnipeg, Calgary and Chicago; shuttered intermodal terminals in Milwaukee, Obico near Toronto and Schiller Park in the Chicago area; and removed 195 locomotives and 3,200 leased railcars from service.
Earlier this month, CP scrapped plans to extend the Dakota, Minnesota & Eastern railroad into the Powder River Basin, citing the sluggish coal market. The railroad said it's also interested in selling 660 miles of the line in Tracy, Minn., and is considering the sale of the Delaware & Hudson railroad in the U.S. Northeast.
CP will also move its headquarters from downtown Calgary to railroad-owned Ogden Yard. Harrison said he didn't buy into the thinking that headquarters "should be downtown in glass towers" and employees will soon be able to "look out the window and see a railroad, which I think is good that we don't forget what this business is about."
Harrison said the success of the initiatives isn't dependent on a "breakthrough" with the union leaders. A nine-day strike in May over the CP's attempt to curb union pensions resulted in the railroad losing business to CN. Harrison said recent talks with union leaders have been encouraging and pointed to how the railroad in the last eight weeks has signed three collective bargaining agreements lasting five years.
Railroad management has struck a deal with one of the bargaining units in which "the pension issues will not be dealt at the collective bargaining table," Harrison said. "They will be dealt with through the pension committee, which is a real breakthrough here."
Teamsters Canada Rail Conference, which represents 4,800 CP engineers, conductors and rail traffic controllers, declined to comment until more details of the layoffs are known, TCRC Vice President Doug Finnon said. CP plans to cut about 4,500 positions over the next four years, and about 1,700 of those cuts will come by the end of the year.
"Now one of my evaluations initially was that we were clearly, in my view, top-heavy," Harrison said. "We had too many non-union officers, managers, supervisors, leaders, up to the range of 28 percent to 30 percent. That's far too much."
He said natural attrition is as high as 9 percent, meaning that over the next four years there is potential for about 5,700 people to leave the company through retirement. Part of the work force reduction will be through using fewer contractors.
"Now one of the things we said is this: We do not want to lose good people. When you got talent, you protect it. So we said to people, 'If you're willing to be cross-trained in another discipline, if you're mobile as far as being able to move, we've got work for you.' And hopefully they will be able to take advantage of it," said Harrison, who began his start in the industry as a carman-oiler.
Contact Mark Szakonyi at mszakonyi@joc.com and follow him at twitter.com/szakonyi_joc.