Eastbound trans-Pacific spot container rates declined this week ahead of next week's planned rate increase, but the rate of decline was the lowest in several weeks, according to Drewry's Hong Kong-Los Angeles container rate benchmark index released Wednesday.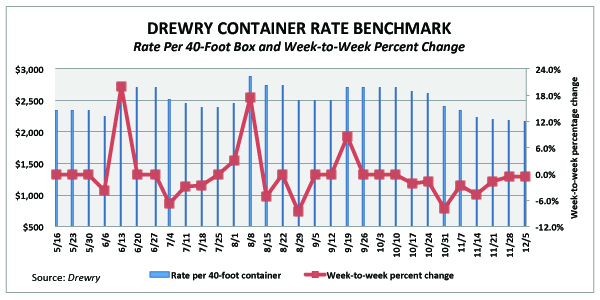 The index dropped to $2,168 per 40-foot container, a 0.5 percent decline from week before. The index has been on a steady decline, falling 20 percent from $2,711 per FEU since mid-October. However, this week's less than 1 percent dip was the lowest weekly decline since then, possibly linked to the scheduled Dec. 15 $400 per FEU general rate increase set to be implemented by carriers in the Transpacific Stabilization Agreement.
Last week, the Shanghai Container Rate Index for the eastbound trans-Pacific trade dropped 2.1 percent to $2,046 per FEU. That index also has been falling steadily, eroding 21 percent from $2,592 since mid-October. The Drewry index is derived from a survey of forwarders, while the SCFI is calculated based on a survey of various market participants including forwarders and carriers.